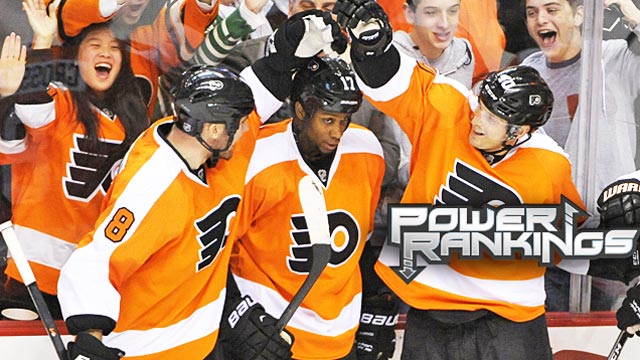 All of the distractions are behind us. The Olympics, the break, the trade deadline -- all gone. Now it's about one thing and one thing only for the remainder of the season: the Stanley Cup.
Well, first there are the playoffs and then the Stanley Cup because of course you can't win it if you aren't in it. The playoff races in each conference are shaping up to be vastly different animals.
In the West you can go ahead and write in six teams -- in ink, it's that sure -- as being in: St. Louis, Chicago, Colorado, Anaheim, San Jose and Los Angeles. Minnesota remains in strong position and all of a sudden Dallas has opened up a small gap for the final spot. The teams are great in the West but that doesn't necessarily make for compelling races.
The East? That's just a mess. Boston and Pittsburgh are both looking like runaway division winners -- and don't look now but the Bruins have passed the Penguins for the top spot in the East, albeit with one extra game and pending the Pens' result Monday at the Capitals. After that, Montreal and Toronto are looking pretty good but then it opens up.
One team missing from that equation is the Tampa Bay Lightning. For much of the season they were neck and neck with the Bruins atop the Atlantic, looking not only like a safe playoff bet but a threat to go deep. Not so much anymore.
Whether it was the Martin St. Louis situation, some regression inevitability hitting Ben Bishop and the team as a whole or whatever other reason, the Bolts are falling. The Lightning remain in playoff position but it's not so comfortable anymore thanks to four straight losses and just three wins in the past 10.
For now they have been bumped into wild-card territory and are lined up against Pittsburgh (subject to change, of course). Not far behind them ready to take that spot are four teams within five points (seven if you count the Nos. 2 and 3 teams in the Metro who get automatic playoff spots). Eighteen games is still a lot of hockey and at this rate, that's a lot of time for the Lightning to try to hold on to an ever more tenuous spot.
In the spirit of Mr. St. Louis and other players who recently changed address, we're taking a page out of the "saying goodbye" playbook with open letters for each team in this week's Power Rankings.