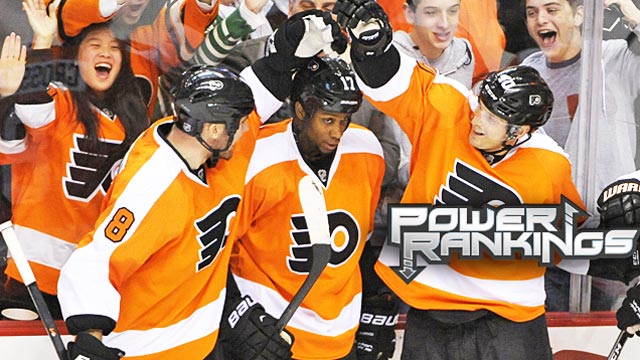 What are we to make of the Philadelphia Flyers?
That is one of the big questions in the East right now. How good, exactly is this team? Almost 70 games in and it's still tough to truly gauge.
Perhaps no team had a better weekend than the Flyers. In a home-and-home with the rival Penguins, the Flyers took advantage of an injury-ravaged team and dominated, particularly in the first game. It's one team the Flyers always bring their best for and it's one matchup the soon-to-be Metro champion Penguins would undoubtedly like to avoid in the first round of the playoffs.
But again, how good are the Flyers? They have won seven of 10 games to move into second in the division -- one point up on the last wild card and three points clear of ninth-place Washington, so that's a plus. Especially after the disappointment of missing last postseason, that's a nice little step forward.
Yet here the Flyers are, currently with the fifth-most points in the Eastern Conference, and they have given up more goals than they have scored. It's only by the slimmest of margins -- one, to be exact -- but it's still a team minus. In the East this season it's not going to be an oddity to have a negative goal differential and still be in the postseason but traditionally, it's never a good sign. Reason stands that over an 82-game schedule if you give up more goals than you score it's not a good sign.
Part of that is overcoming a very slow start to the season that cost Peter Laviolette his job. That the Flyers have been able to come back and climb to where they are is impressive. Certainly since that slow start, offense hasn't been an issue. Claude Giroux is making a case for his name in the Hart conversation, moving all the way up to fourth in the league with 69 points in 67 games. Wayne Simmonds is having a very strong season as is Jakub Voracek and two-way players Matt Read and Sean Couturier. They're up to 10th in the league in goals per game.
It's just that eternal Achilles heel for the Flyers, the back end. All things considered, Steve Mason has been good this season. Not great, but good. His save percentage is still floating at a very respectable .914 despite taking a dip in March down to .905.
If the offense comes to another halt, the question is how confident are you that Mason can carry the team? Since the stretch run is going to more or less be a playoff run for teams like Philly, particularly with their very difficult schedule -- the toughest down the stretch -- he'll be counted on a few times to win some games, not just not lose them.
There is no denying that against the Penguins, the Flyers look good, in almost every facet. They just seem to have the Pens' number. But now we'll find out if they are just as good against the other top teams so they can be considered one themselves.