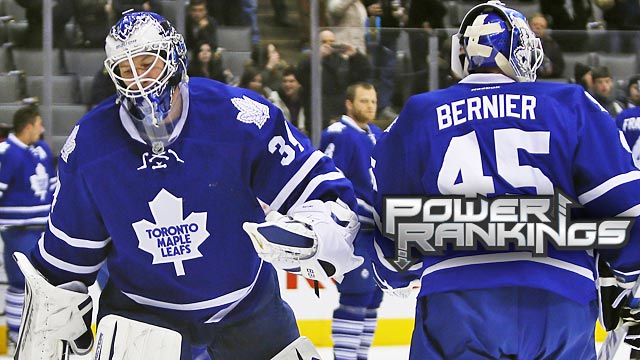 It wouldn't be a playoff push in the NHL without some drama in Leafs Land.
Hardly more than a week ago the Toronto Maple Leafs looked like they would do it; looked like they would defy the odds and the stat heads that say they wouldn't last to the finish line. They were rather comfortably ahead on the wild cards and were actually competing for home-ice advantage in the first round.
And then five losses happened. Five losses in a row. Five losses in a row in regulation. All of a sudden their 80 points do not have them in such a safe position. The Maple Leafs are holding on to the final wild-card spot right now, but just barely. Washington is one point behind with one game in hand, Columbus two points back with two games in hand. In other words, the Leafs are perilously close to that cutoff line and a second straight season ending in heartbreak with a blown lead, this time in the standings.
No matter where the blame might lie (there are a few options), it somehow always circles back to the goaltending. GM Dave Nonis turned a couple of heads when the Leafs landed Jonathan Bernier in the offseason after a very strong season from James Reimer, but that has paid off pretty well. Bernier has been every bit as good as Reimer was last season, if not better. It has also led to the demotion of Reimer to the backup.
It comes as little coincidence, then, that the Leafs' current woes come at the same time that Bernier has been on the shelf with a nagging injury. Reimer is not even close to the only or even the biggest issue for Toronto, but that doesn't change the fact that he has been pretty bad lately too. In a time of increasing desperation, he has struggled.
Then again, that was probably to be expected, at least a little. The Leafs continue to allow more shots than any other team, and you can only rely on top goaltending so long before things even out. The fact that Reimer is in a slump is precisely the point; goalies have their peaks and valleys but usually it evens out.
Before beginning to blame the goaltending for their problems the past two weeks, it has to be accepted that without the goaltending the Leafs probably wouldn't have been in position to lose a playoff lead. The team defense, however, hasn't helped them keep this position one bit and it's not helping Reimer much right now either. Goalies rarely look bad on their own.
Unfortunately for the Leafs it might get tougher before it gets easier. Their next five games come against teams playing some great hockey. St. Louis leads the Western Conference, the Flyers are the hottest thing this side of Boston, the Red Wings can't stop picking up points all of a sudden, the Flames are scoring at will right now, for Pete's sake, and then they play the Bruins.
On paper it's not tough right now to see that losing streak continuing. Then again, these are the Leafs we're talking about, so who knows, maybe they'll win four of them.