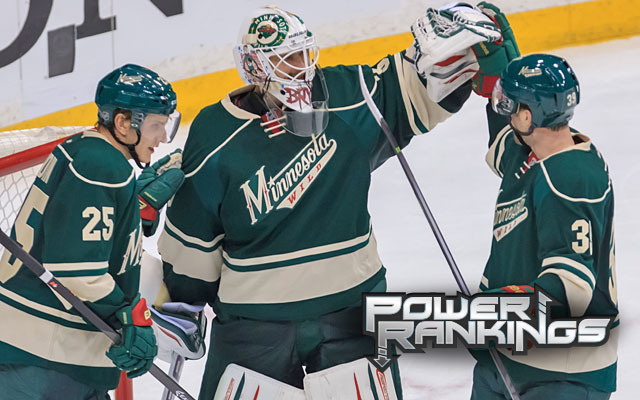 This is it, the final week of the regular season. It only feels like ... well, six months ago, that the season began in Chicago with a Stanley Cup banner ceremony. A full 82-game season has come down to this.
Unfortunately for fans of pure excitement, there's not a ton left to be decided this week in the NHL. The East was shaping up to be a great run to the finish, and it certainly still will be good, but the pack has thinned as two clear favorites have emerged in Detroit and Columbus, the East's two newcomers. Of all teams, New Jersey might have the most to say about that but the Wings and Jackets look to be in pretty commanding positions with a week left.
The West is even more set than the East, but the potential for an awesome finish is even greater. Sure, six of the eight spots are officially taken and a seventh to the Wild is certainly going to come -- one more point will do it -- but the battle for that last playoff spot? It should be a doozy.
As it stands now the Dallas Stars have a one-point lead on the Coyotes. Both enter this week with four games to play so that one-point difference is tenuous. One of the games the Stars have left, though, will begin with them at a 1-0 deficit, the resumption of the game where Rich Peverley collapsed on the bench vs. Columbus.
For the general hockey fan who has no rooting interest, the hope should be that the one-point difference (or a tie) remains come next Sunday because we could have ourselves a de facto play-in game. Who needs a manufactured one like in baseball?
Indeed, the season finale will see the Coyotes hosting the Stars and depending on how the week shakes out, it could be a win-and-in scenario. Remember that Dallas will finish with the tiebreaker over the Coyotes by virtue of more Regulation/Overtime Wins (ROW), so the Coyotes must finish ahead of Dallas to qualify.
We're at this point because neither team has been able to pull away, even with ample opportunity. The Stars lost two of three games on a swing through the old Southeast Division, losing the softer games against Carolina and Florida while beating Tampa Bay. That's not how a team closes a playoff berth.
It's not as though the Coyotes have taken advantage. They have lost four games in a row -- two in shootouts -- and have scored only four goals in those games. With Columbus, a hot Nashville team, San Jose and then the Stars to finish, that has to change in a hurry to make that final game to live up to its potential.
Hopefully we'll get some of that Rangers-Flyers drama from 2010 just, you know, without having to decide the final spot in a shootout.