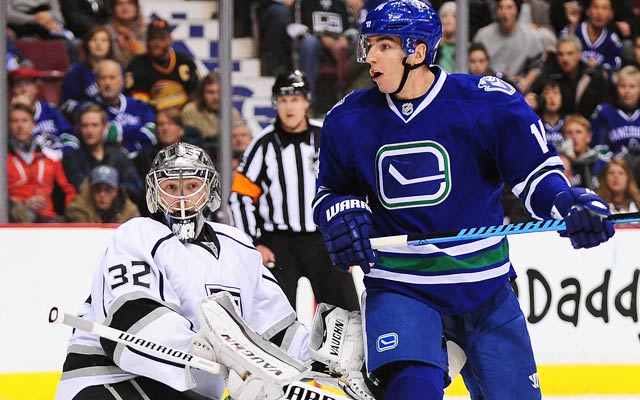 Last week we took a look at the craziness that is the top of the Metropolitan, so this week it's time to take a look at the silliness in the Pacific Division. Over the last few weeks, the postseason race out West has gotten all the more intriguing.
The biggest story in the Pacific of late is the resurgence of the Los Angeles Kings. Nobody saw that coming, right? Well, probably everyone did because the Kings seem to be able to do this late-push thing all the time.
A big factor in LA's seven-game winning streak has been the improved play of Jonathan Quick. He needs to be better than he has been this year and the recent results show why. It also shows that the Kings are still in a precarious position because they could be in trouble if their goaltender's play goes south again.
The San Jose Sharks and Calgary Flames are probably hoping Quick reverts a bit. Both San Jose and Calgary are suddenly out of the playoff picture. That said, they each have 68 points just like the Kings. So this is far from over.
Three points ahead of those three clubs is the Vancouver Canucks. With six wins in their last 10 games, the Canucks have been able to let their divisional foes fight amongst themselves a bit more, but their position is far from safe either.
Meanwhile, the Anaheim Ducks sit high atop their tower, leading the division by 12 points. One has to wonder if the lack of pressure for the divisional title will hurt the Ducks in the long run. Odds are it won't, but Anaheim has been really cruising this year. With the way the Western Conference is going, though, all four playoff series in the first round are going to be a challenge, including whomever the Ducks face among the wild card teams.
Now all eyes turn to the deadline to see which of these teams is going to make that move to try to put them over the top. The Kings and Flames could probably both use a little extra defensive help, the Sharks have a bottom six in serious need of some retooling and the Canucks could afford to attract a little more depth help.
The interesting thing about all that is that the Flames and Canucks appear to have longer-term visions for what they're trying to accomplish and might not buy into the win-now hype despite their position in the standings. The Kings will always be going for it and the Sharks remain in some weird limbo with a fantastic group at the top of its lineup that could compete with some extra help, presumably.
The Pacific could be intense right up until the last day of the season with the way things are going of late. The drama will get kicked up a notch if any of these teams get involved in making moves at the deadline.