Wes Goldstein's Take
The team's owner is headed for jail because of SEC violations, the general manager is rumored to be out the door once his contract expires after the season and Anaheim's two main division rivals seem to have surpassed them at least in terms of lineup talent. In other words, the intimidation factor that was so critical to Anaheim's run to the Stanley Cup in 2007 is long gone. But there are some bright spots heading into the new season for the Ducks, who will start in North America rather than on a tough European road trip, alongwith Scott Niedermayer and Teemu Selanne in the lineup and high-scoring young forward Corey Perry under long term contract. To get all that done however required some hoop jumping to get under the salary cap, which meant making sacrifices elsewhere, but not enough to keep the Ducks from remaining among the league elites.
Strengths
Experience, poise and size for beginners. The best thing about Anaheim of course is the blue line, although some might argue that having GM Brian Burke calling the shots at least for now, gives the Ducks one of the shrewdest operators around. That aside, Niedermayer and Pronger give the Ducks two Norris winners, something no other team has. And Francois Beauchemin could be a No. 1 type just about anywhere else. The goaltending is very strong here because of Jean-Sebastien Giguere, and Ryan Getzlaf is evolving into one the game's best big centers. Anaheim has one of the NHL's best shutdown lines as well with Samuel Pahlsson, Rob Niedermayer and Travis Moen.
Weaknesses
Even when they won it all, Anaheim was more about defense than offense and that latter failing was glaringly apparent last season. The Ducks' offense, which was horrid last season, looks a lot better now that Selanne will be there. Anaheim was 28th in scoring overall and the power play was 20th, although that figures to be better with the veterans in place from day one and free agent Brendan Morrison added to the mix. The defense could be an issue this season in terms of depth because the salary cap issues force Anaheim to dump Mathieu Schneider and Sean O'Donnell.
Intangibles
No Stanley Cup hangover to deal with.
Burning Question
Is the hangover a thing of the past? There was a sense the Ducks were good enough to repeat last season even if Scott Niedermayer and Teemu Selanne weren't certain to return because Anaheim filled the gaps with free agents. But there were other issues, including some key injuries and a season start in Europe that created a malaise Anaheim was never able to overcome. Niedermayer is in the lineup from the outset this season and Selanne should be once some salary cap issues are ironed out, but the Ducks don't intimidate anyone anymore with their physical play and they don't produce enough offense to scare anyone either. They play great defense though and certainly will be fresher after getting more time off this summer.
On the Hot Seat
Chris Pronger, D
Pronger struggled through a few injuries, but still managed 43 points in 72 games. But there was controversy because of his on-the-edge style of play, which wasn't new and he'll be under a more watchful eye from officials this season.
Save the Date
Oct. 21 at Toronto
The circus will be in town when Burke gets there and faces all those questions about his possible future with the Maple Leafs.
View From the Stands
SoCalSportsFan says:
"We are going to learn a lot about the Ducks' makeup very early on this upcoming season. Not a lot of changes, but it could be enough to push us either way in the standings. I personally believe we will head up but with opening night against the Sharks then a tough eastern road swing into Minnesota, Boston, Philadelphia, and New York, the last two being back to back."
Join the discussion!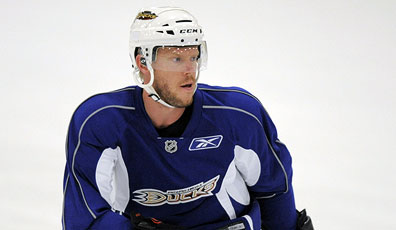 Saku Koivu (pictured) joined the Ducks so he could reunite with fellow Finn Teemu Selanne. (Getty Images)
2008-09 in Review
Record: 42-33-7 for 91 points
Finish: 8th in West, 2nd in Pacific; Lost Conf. Semifinals
Goals/Game: 2.90 (14th)
Goals Against/Game: 2.87 (18th)
Power Play: 23.6% (5th)
Penalty Kill: 79.7% (23rd)
Generation Next
Jake Gardiner, D, 19
The forward-turned-defenseman seemed overwhelmed in his freshman season, but steadily earned ice time as the season progressed. Gardiner boasts outstanding skating ability and can run a power play, but still needs to hone his defensive skills, specifically positioning and physical play.
Wisconsin (WCHA) - 39GP-3G-18A-21PTS
In the System
No.
Player, Pos., Age
2008-09 Team, Stats
1
Matt Beleskey, LW, 21
Iowa (AHL); 58GP-11G-24A-35PTS
2
Mark Mitera, D, 21
Michigan (CCHA); 8GP-1G-2A-3PTS
3
Peter Holland, C, 18
Guelph (OHL); 68GP-28G-39A-67PTS