Wes Goldstein's Take
Atlanta's new coach, John Anderson, is a minor league lifer who is finally getting his shot at the NHL. He's good friends with Washington coach Bruce Boudreau as well, and the Thrashers are hoping Anderson can emulate his buddy's success after getting his first chance last season. The difference is that Anderson doesn't have nearly as much to work with. Once Atlanta traded Marian Hossa at the deadline, the Thrashers became a team of Ilya Kovalchuk and everyone else. The defense looks a little better after Mathieu Schneider came in a trade and Ron Hainsey was signed as a free agent, but looks like Atlanta is in for another long season.
Strengths
Kovalchuk is one of the most dangerous snipers in the league but he doesn't have much offensive help other than Slava Kozlov. Atlanta is still hoping that Kari Lehtonen, who is only 24, can morph into the elite goaltender he has shown signs of becoming, and sophomore Tobias Enstrom is one of the best young defensemen that nobody knows about. Actually, the blue line as a whole will probably be the best thing in Atlanta this season with its collection of veterans and kids. Schneider isn't slowing down as he nears the age of 40, and Hainsey, Niclas Havelid and Garnet Exelby are better than adequate. Rookie Zach Bogosian, the third overall pick last June, has star potential.
Weaknesses
Where do you want to start? The Thrashers essentially collapsed last season after winning the division in 2006-07 and finished near the bottom of every important statistical category. And for all his talent, Kovalchuk is neither a leader in the motivational sense or someone who seems interested in carrying teammates on his back. Atlanta probably won't score much this season, and because the team is reluctant or unable to spend, chances are it won't be able to fix the problem.
Intangibles
Kovalchuk is under contract for this season and next, but there is a suspicion he is already counting the days until he is able to leave. That kind of attitude infects a dressing room.
Burning Question
How low can the Thrashers go? You have to wonder considering this franchise has made the playoffs only once since joining the league in 1999, and were swept in the the first round two seasons ago. Kovalchuk is a genuine star, and there are a couple of other players who qualify as legitimate support, but on the whole this is a team that is no stronger -- and arguably weaker -- than when it finished in the bottom of every critical statistical category last season.
On the Hot Seat
Don Waddell, GM
Waddell has run this team since it joined the league, with only one playoff appearance to show for it. And Atlanta was swept in that one. At some point -- this season maybe? -- better results are needed.
Save the Date
Oct. 16 vs. New Jersey
Former captain Bobby Holik returns with the Devils.
View From the Stands
Blotto VD says:
"[Antropov] is a solid top six forward that the Thrashers needed regardless. However, when you add to the equation that Antropov was hand picked by Ilya Kovalchuk, a guy we are looking to lock into a long term contract this offseason, the value of that pickup just doubled."
Join the discussion!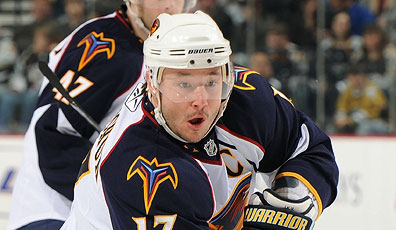 Captain Ilya Kovalchuk could be on the trading block if he does not sign a new contract before the March trade deadline. (Getty Images)
2008-09 in Review
Record: 35-41-6 for 76 points
Finish: 13th in East, 4th in Southeast; Missed playoffs
Goals/Game: 3.05 (9th)
Goals Against/Game: 3.40 (29th)
Power Play: 19.3% (11th)
Penalty Kill: 76.0% (29th)
Generation Next
Ondrej Pavelec, G, 22
Pavelec has 50 career wins and a Calder Cup title to his name in two pro seasons, however, he's seen limited action at the NHL level. Atlanta's tandem of Kari Lehtonen and Johan Hedberg are due new contracts next summer, so a strong effort by Pavelec could earn him more playing time this season and beyond.
Chicago (AHL) - 18-20-2, 2.58 GAA, .914 SV%
In the System
No.
Player, Pos., Age
2008-09 Team, Stats
1
Angelo Esposito, C, 20
Montreal (QMJHL); 35GP-24G-18A-42PTS
2
Riley Holzapfel, C, 21
Chicago (AHL); 73GP-13G-19A-32PTS
3
Evander Kane, C, 18
Vancouver (WHL); 61GP-48G-48A-96PTS