Wes Goldstein's Take
Boston really wanted to land Marian Hossa this summer, but for the prized forward, the Bruins megabucks offer couldn't compete with the allure of the Red Wings and their potential to win a Stanley Cup next season. So the B's turned to Michael Ryder, signing the former Montreal winger for $12 million over three years in a deal that still has a lot of folks shaking their heads and rolling their eyes. Ryder has scored 30 goals a couple of times, but he had only 14 last season in his contract year which is enough to make anyone wonder. Boston scored something of a coup by getting former high school standout Blake Wheeler, a high first-round pick of Phoenix in 2005 who wouldn't sign with the Coyotes, and free agent Stephane Yelle will help in the faceoff circle. The best news though for Boston has been the return of Patrice Bergeron, who missed almost all of last season because of a concussion, and has looked very good in the preseason.
Strengths
Coach Claude Julien has them play such a tight, defensive game, the Bruins often threaten to put fans to sleep, but it is effective. Zdeno Chara is a Norris quality defenseman and a punishing presence and Dennis Wideman does a good job when he joins the rush. The Bruins ranked 24th in scorijg last season, but there is some offensive potential around with Marc Savard, who is one of the top play makers in the league, and especially if Bergeron regains his pre-injury form. The goaltending is in good hands as well with Tim Thomas and will be better if Manny Fernandez stays healthy, and Milan Lucic had a rookie season that makes some B's fans think he
Weaknesses
Potential is a good thing, but unless it translates into reality, Boston's offense will continue to be its biggest problem this season. What this team really needs is a take charge guy up front, and right now the Bruins don't have one. Boston was moderately better on the power play than at regular strength, but the special team wasn't enough to make a real difference particular since the Bruins had so much trouble killing penalties. And it wouldn't hurt to have a player or two up front other than Lucic who could play a more physical game.
Intangibles
The Bruins accelerated their building process with a surprise appearance in the playoffs last season and nearly upsetting Montreal in the first round. The expectations will be higher this time.
Burning Question
Can the B's produce enough offense to get back into the playoffs? Their postseason appearance last spring was a surprise, delivered largely because coach Claude Julien instituted a tight, disciplined and effective -- some would say boring -- defensive system that offset the lack of offense. Just barely though. But Patrice Bergeron will be back for the Bruins after missing almost the entire season with a concussion, and free agent Michael Ryder has been a 30-goal scorer in the past, so that should help on the production side.
On the Hot Seat
Michael Ryder, RW
Ryder was the major acquisition this summer, and in some ways a plan B, who got Plan A type money.
Save the Date
Oct. 18 at Ottawa
Always a big deal for Chara to play in his old haunting grounds.
View From the Stands
NSBengal says:
"Any Bruins forward with over 20 goals could replace Kessel. If people want to say Phil Kessel is a potential 40-50 goal scorer with 36 goals his max so far, then why can't Blake Wheeler, or David Krejci or Michael Ryder be a potential 30-goal scorer? Kessel is gone and the Bruins got a good deal. We have a Vezina winner in nets, we have a a pretty solid D, and almost too much depth."
Join the discussion!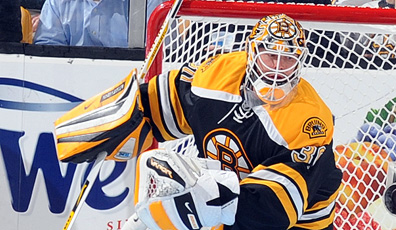 With a Vezina on his mantle and a new four-year contract, Tim Thomas won't face any more questions as to whether he's Boston's No. 1 goalie. (Getty Images)
2008-09 in Review
Record: 53-19-10 for 116 points
Finish: 1st in East, 1st in Northeast; Lost Conf. Semifinals
Goals/Game: 3.29 (2nd)
Goals Against/Game: 2.32 (1st)
Power Play: 23.6% (4th)
Penalty Kill: 82.4% (12th)
Generation Next
Tuukka Rask, G, 22
With the Bruins in need of a No. 2 netminder, they're bound to see a lot more of the Finn this season. Rask improved his consistency during his second pro season, backstopping the P-Bruins to the conference finals. The quick, butterfly-style goaltender recovers well when he gives up rebounds, but must still learn not to over commit. Providence (AHL) - 33-20-4, 2.50 GAA, .915 SV%
In the System
No.
Player, Pos., Age
2008-09 Team, Stats
1
Zach Hamill, C, 21
Providence (AHL); 65GP-13G-13A-26PTS
2
Joe Colborne, C, 19
Denver (WCHA); 40GP-10G-21A-31PTS
3
Brad Marchand, C, 21
Providence (AHL); 79GP-18G-41A-59PTS