Wes Goldstein's Take
The Sabres have become known for letting key players go in recent seasons because of money, but there is actually a management philosophy in place that just doesn't apply to everyone. So while Daniel Briere, Chris Drury and Brian Campbell are elsewhere now, Buffalo fans can take solace the other foundation types like Ryan Miller, Derek Roy and Jason Pominville have been deemed worthy of deals that will keep them around for a while. That may be frustrating to the loyal denizens in Buffalo who saw their Sabres turn into a legitimate Cup contender in the first two post lockout seasons before slipping back last year, but the basic elements of speed, mobility and scoring power that triggered the success are still there in an era when there is more parity than ever in the NHL.
Strengths
They lost their co-captains before the season began, but the Sabres still turned in the league's fourth-best offensive totals and figure to be in that range again this time around. Roy has evolved into one of the league's top young scorers, while Thomas Vanek overcame the pressure of his massive contract to finish strong and position himself as a perennial 35 to 40 goal scorer. The nice thing for Buffalo is that it can roll four lines on most nights and take advantage of a defense that is one of the best at transitioning the puck ahead.
Weaknesses
There really isn't what you would call a No. 1 defenseman in the group here, and with so many veterans having left, there is a bit of a leadership void around. Like many other teams built on skill, the Sabres have to rely on finesse instead of grit which is a problem at times. Miller can be one of the top goalies in the league, but the Sabres overused him last season which may be a reason the team struggled so much in shootouts last season.
Intangibles
Stability. The Sabres have been run by the brain trust of GM Darcy Regier and coach Lindy Ruff since 1997, and it has made a difference for a franchise that has undergone both good times and bad during that period.
Burning Question
Has the window of opportunity closed on Buffalo? The Sabres looked like they had it figured out better than anyone after the lockout, thanks to a lineup that was fast, aggressive and, well, cheap. But you have to pay the piper sooner or later, and the Sabres weren't inclined to. That's not to say there isn't a core of talent left, especially up front with youngsters like Derek Roy, Thomas Vanek and Ales Kotalik, and Ryan Miller is one of the league's better goalies when he's on his game. But what was missing last season was leadership, and that takes time to develop.
On the Hot Seat
Tim Connolly, C
Connolly is a former first round draft pick who has struggled to reach his potential because of various injuries. He can be a key player, but he appeared in only 48 games last season, and he has a hip that's less than 100 percent.
Save the Date
Jan. 14 at Chicago
First look at Brian Campbell in a Blackhawks uniform.
View From the Stands
Tyldak23 says:
"While we could use a change in ownership, the team will be no where near the bottom four. We were in fifth when Miller got hurt last year despite missing major time from Connolly, Vanek and Rivet. The only major loss will likely be Spacek, but bringing in Montador and calling up Weber makes the team a lot more physical on the blue line, which was its biggest flaw last year."
Join the discussion!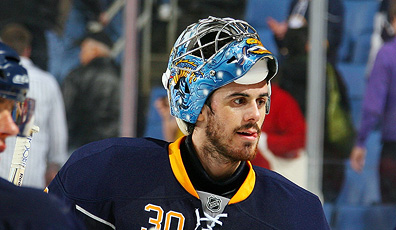 Snubbed by Team USA in 2006, Ryan Miller will be out to prove he's worthy of a spot on this year's Olympic team. (Getty Images)
2008-09 in Review
Record: 41-32-9 for 91 points
Finish: 10th in East, 3rd in Northeast; Missed playoffs
Goals/Game: 2.95 (12th)
Goals Against/Game: 2.79 (14th)
Power Play: 21.0% (7th)
Penalty Kill: 81.8% (14th)
Generation Next
Tyler Myers, D, 19
The towering Myers soared in his third WHL season, recording a career high 42 points and pushing aside concerns about his limited offensive ability. Despite his 6-foot-8 stature, Myers moves well and is tough to beat because of a huge reach. His confidence continues to grow and that may put him on the fast track to the NHL. Kelowna (WHL) - 58GP-9G-33A-42PTS
In the System
No.
Player, Pos., Age
2008-09 Team, Stats
1
Nathan Gerbe, C, 22
Portland (AHL); 57GP-30G-26A-56PTS
2
Tyler Ennis, C, 19
Medicine Hat (WHL); 61GP-43G-42A-85PTS
3
Jhonas Enroth, G, 21
Portland (AHL); 2.75GAA-.914SV%