Wes Goldstein's Take
No one likes to use injuries as an excuse, but their impact on the Hurricanes' failed playoff bid was undeniable. Still, after two consecutive non-playoff seasons, there was little doubt the team needed some changes, particularly on the back end. That was the main focus this summer for GM Jim Rutherford, who added puck-moving defenseman Joni Pitkanen in in a trade with Edmonton for Erik Cole, and Josef Melichar and Anton Babchuk at modest prices. The biggest move, though, was extending Eric Staal, and re-signing several other restricted free agents to keep the forward group intact, although Justin Williams was hurt again in training and won't be back until mid-season. Even so, the 'Canes may have enough to win this division.
Strengths
The key to Carolina's Stanley Cup run was its speed and transition game and, most important, its ability to get scoring its third and fourth lines. Some of the faces have changed since then, but there is still a similar level of balance, and the philosophical emphasis under coach Peter Laviolette remains the same. Staal, Rod Brind'Amour, Matt Cullen, Sergei Samsonov and Ray Whitney lead an offense that scored 250 goals last season -- the fourth highest total in the league -- and has at least eight players with 20-goal potential this season. Pitkanen and Joe Corvo are both good puck movers. Carolina will go into the season well under the salary cap limit, which leaves them with several in-season move options should they become necessary.
Weaknesses
Carolina's back end is clearly more mobile this season, but not necessarily better, which is a problem for a team that ranked 25th in defense and 26th in penalty killing. Some of the better players and leaders on the team are getting up there in years as well. An equally important issue for the Hurricanes is cohesiveness. Carolina was definitely hurt by the players who went on injured reserve, but the team often looked disjointed in games, which might help explain why it was unable to take a division title that was up for grabs even with enough talent still around.
Intangibles
Dealing with the stigma that they were really no more than one-hit wonders when they won the 2006 Stanley Cup.
Burning Question
Have the Hurricanes overhauled their defense enough? Considering they were 25th in that category, there had to be changes in Carolina, and Rutherford's credit, he has moved aggressively since the middle of last season. In fact, there are only two blue liners still remaining from the 2006 Stanley Cup champions, and collectively the group is younger, quicker and more mobile. In theory, that should bode well for the Hurricanes, who have several forwards who can skate and put the puck in the net.
On the Hot Seat
Cam Ward, G
Ward won the playoff MVP award as a rookie and hasn't been the same since. Neither have the 'Canes.
Save the Date
Oct. 5 vs. Pittsburgh
Eric Staal against his brother Jordan, and a guy named Sidney too.
View From the Stands
JPFreak9090 says:
"[The Hurricanes] don't have big names, but you know what we do have, is a team on the same level. It isnt like a team of new people every trade deadline like the Rangers. It isnt like a completely re-washed atmosphere like the Canadians, we have a team that is all on the same level, and that is we want the Stanley Cup. Period."
Join the discussion!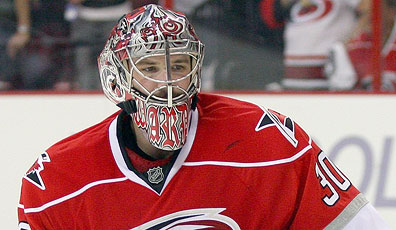 Former Conn Smythe winner Cam Ward returned to top form during the 2009 postseason. (Getty Images)
2008-09 in Review
Record: 45-30-7 for 97 points
Finish: 6th in East, 2nd in Southeast; Lost Conf. Finals
Goals/Game: 2.88 (16th)
Goals Against/Game: 2.70 (8th)
Power Play: 18.7% (18th)
Penalty Kill: 80.4% (19th)
Generation Next
Drayson Bowman, C, 20
The power forward with a nasty streak continued to show off his quick hands and finishing ability last season. Bowman ended his junior career with highs in goals, points and penalty minutes. The center joined Carolina for its playoff run, but will probably see action in Albany (AHL) before joining the Hurricanes full-time. Spokane (WHL) - 62GP-47G-36A-83PTS
In the System
No.
Player, Pos., Age
2008-09 Team, Stats
1
Zach Boychuk, C, 19
Lethbridge (WHL); 43GP-28G-29A-57PTS
2
Jamie McBain, D, 21
Wisconsin (WCHA); 40GP-7G-30A-37PTS
3
Zac Dalpe, C/RW, 19
Ohio St. (CCHA); 37GP-13G-12A-25PTS