Wes Goldstein's Take
The Flames had to make some choices due to salary cap concerns, but they kept their very solid back end intact. Up front though, there were choices to make for a team that relies too much on captain Jarome Iginla for offense. Calgary re-signed centers Daymond Langkow and Craig Conroy, but let Kristian Huselius and Owen Nolan go and traded Alex Tanguay away to make it work. The Flames landed a talented, young center named Mike Cammalleri, who priced himself out of the Los Angeles Kings' budget after several productive seasons. Calgary is hoping several low-profile newcomers like Curtis Glencoss and Rene Bourque can make nominal contributions and the Flames figure that if Todd Bertuzzi can rebound at age 33, the controversial forward will turn out to be a worthwhile gamble on a one-year deal. But this is still an aging team, with a window of opportunity that is starting to close.
Strengths
Iginla is among the best leaders in the game, and certainly one of the top five or six players in the league. Dion Phaneuf is one of the game's best young defenseman, now a perennial Norris contender and not really far away from winning the award. Those are the really bright sides for Calgary, although when he's on, goalie Miikka Kiprusoff can be among the best in the league. Funny thing is, Calgary has developed a reputation for grit and strong team defense in recent seasons, but the Flames are more about offense these days with Iginla, Langkow, and now Cammalleri, who should be a solid addition.
Weaknesses
Get beyond the top line and a couple of the defensive units, and there are several legitimate questions about depth on the Flames. Calgary is looking to work several new faces into the lineup this season, many of them young, and with "Iron" Mike Keenan behind the bench, that has the potential for trouble, especially if Kiprusoff doesn't rebound or gets hurt. The special teams need to improve as well because both the power play and penalty killing units were in the bottom half of league rankings last season.
Intangibles
Keenan got through his first full season as Calgary coach without incident. Is it possible to do it again?
Burning Question
Can Kiprusoff still deliver the goods? The Flames goalie was brilliant when he helped get them to the 2004 Stanley Cup Finals. For the most part, he picked up where he left off in the first two seasons after the lockout. But Kiprusoff was not dominant last season and had more than his share of off nights. Now that's he's 32, there are valid concerns about whether his game might be in the first stages of a back slide. For Calgary to be a serious threat, Kiprusoff has to be at his best.
On the Hot Seat
Miikka Kiprusoff, G
Kiprusoff is coming off a sub-standard season and begins a new six-year, $35 million deal.
Save the Date
Oct. 17 vs. Edmonton
Battle of Alberta, part I.
View From the Stands
HateMichigan says:
"With all the D that we have, I [envision] a lot of 1-0, 2-1 games in Calgary's future assuredly not all in the Flames' favor. I propose they trade a Phaneuf for a Marleau or Heatley and prospects either coming or going. We need a better balance and either one of those could help."
Join the discussion!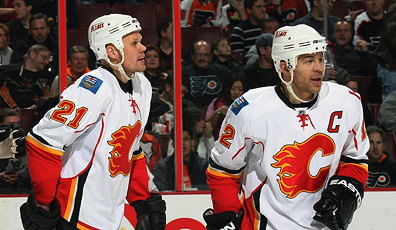 The Flames should get plenty of offense from center Olli Jokinen (left) and winger Jarome Iginla (right). (Getty Images)
2008-09 in Review
Record: 46-30-6 for 98 points
Finish: 5th in West, 2nd in Northwest; Lost Conf. Quarterfinals
Goals/Game: 3.06 (8th)
Goals Against/Game: 3.00 (23rd)
Power Play: 17.0% (21st)
Penalty Kill: 83.4% (4th)
Generation Next
Mikael Backlund, C, 20
Backlund split 2008-09 among four teams, most of it with Kelowna. The speedy playmaker made his NHL debut in January and should see more ice time with the Flames this season. Calgary may end up moving the Swede, who boasts strong offensive and two-way abilities, to wing to improve the team's scoring depth.
Kelowna (WHL) - 28GP-12G-18A-30PTS
In the System
No.
Player, Pos., Age
2008-09 Team, Stats
1
Greg Nemisz, C, 19
Windsor (OHL); 65GP-36G-41A-77PTS
2
Leland Irving, G, 21
Quad City (AHL); 2.23GAA-.912SV%
3
John Negrin, D, 20
Swift Current (WHL); 63GP-8G-41A-49PTS