Wes Goldstein's Take
The Jackets are the only one of the NHL's 30 teams to never make the playoffs, and second-year GM Scott Howson has moved aggressively this summer in an attempt to get rid of that dubious distinction. He started at the draft when used the sixth overall pick on a talented young Russian named Nikita Filatov, a player many teams were thought to be shying away from because there is no transfer agreement between his national federation and the NHL. Columbus signed him though, and then continued the roster makeover with a series of drafts and trades. The upshot is that the Blue Jackets are a deeper and more balanced them, one that has strengthened its blue line by adding Mike Commodore, Fedor Tyutin and Christian Backman, added scoring power and skill with Kristian Huselius and R.J. Umberger and toughened up front with heavy hitting Raffi Torres. And as a final touch, Columbus extended the contract of coach Ken Hitchcock for three years.
Strengths
Rick Nash is one of the NHL's purest scorers, and for a change he'll have some pretty good support players around him to ease the burden. Newcomers Huselius and Umberger should help the Jackets climb from the bottom of the overall scoring pack, especially if Fredrik Modin regains some of his old scoring touch after missing most of last season with injuries. Pascal Leclaire showed signs of becoming the franchise type goalie Columbus expected when it drafted him the first round back in 2002, and the Jackets revamped group along the blue line is deeper, more experienced and more physical than any the team has ever had.
Weaknesses
Unless rookie Derrick Brassard proves he's up to the task, the Jackets will start the season without a true No. 1 center. Umberger will get the job in that case, although he's better suited to second line duty with Michael Peca, who is more appropriate for the third unit. There have been a lot of changes in Columbus this summer, so getting players to gel together quickly will be an issue, particularly because the Jackets need the newcomers to improve an offense that was generally pathetic at both even strength and on the power play last season.
Intangibles
Market pressure. Attendance has dropped for five consecutive seasons and is now among the worst in the league. The trend will continue unless the team becomes a legitimate playoff contender.
Burning Question
Did the offseason overhaul finally make them a playoff team? That's still open to debate, although there is little doubt second-year GM Scott Howson has given coach Ken Hitchcock a lot more to work with. For one thing, the Jackets should improve on their 29th-place ranking in offense after adding forwards Kristian Huselius, R.J. Umberger and Rafi Torres. And the Columbus defense, which was eighth overall last season, looks better on paper with newcomers Fedor Tyutin, Mike Commodore and Christian Backman.
On the Hot Seat
Rick Nash, LW
Nash has shown he can put the puck in the net, but now that he's captain, he has to prove he's a true leader as well.
Save the Date
Oct. 24 vs. New York Rangers
The enigmatic and perennial disappointing Nikolai Zherdev makes his return to Columbus.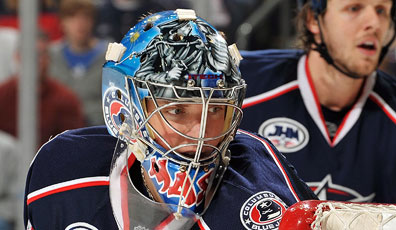 Steve Mason faltered during Columbus' first playoff appearance, but still won the Calder Trophy as the NHL's top rookie. (Getty Images)
2008-09 in Review
Record: 41-31-10 for 92 points
Finish: 7th in West, 4th in Central; Lost Conf. Quarterfinals
Goals/Game: 2.68 (21st)
Goals Against/Game: 2.72 (9th)
Power Play: 12.7% (30th)
Penalty Kill: 82.1% (13th)
Generation Next
Nikita Filatov, LW, 19
The swift-footed Filatov should make the Blue Jackets roster out of camp, especially since KHL teams are courting the winger. Filatov's transition to the North American game last season went smoothly, as he netted four goals in an eight-game stint with Columbus. Expect to see him among this year's finalists for the Calder Trophy. Syracuse (AHL) - 39GP-16G-16A-32PTS
In the System
No.
Player, Pos., Age
2008-09 Team, Stats
1
Maxim Mayorov, LW, 20
Syracuse (AHL); 71GP-17G-14A-31PTS
2
Nick Holden, D, 22
Syracuse (AHL); 61GP-4G-18A-22PTS
3
John Moore, D, 18
Chicago (USHL); 57GP-14G-25A-39PTS