Wes Goldstein's Take
Colorado overachieved last season to get to the second round of the playoffs, but that wasn't enough to save coach Joel Quenneville's job. He was replaced by assistant and former Avs head coach Tony Granato soon after Colorado was swept in the by Detroit. Granato will be taking over an Avs team that seems destined for a slide, even though familiar faces Joe Sakic and Adam Foote are back. The team wasn't particularly active during the off season, although there were some changes along the blue line and in goal as starter Jose Theodore left as a free agent. It will take a lot to excite what was once a rabid fan base that has been turning off the team in recent seasons.
Strengths
Sakic is 39 but his conditioning habits make him play a lot younger which means he will still be a top producer. Paul Stastny has evolved into the real go-to guy on offense, although Milan Hejduk, Marek Svatos and Wojtek Wolski make up a good support group. Colorado is a pretty gritty team that won't get pushed around either. Some might complain the Avs lack a true No. 1 defenseman, but collectively, the group along the blue line is made up of several who would qualify as decent No. 2s or 3s.
Weaknesses
Special teams were real killers for the Avs last season, with the penalty killers ranked 21st and the power play near the bottom at No. 28. There is not much depth among the forward beyond the first two lines, but the real problem here is in goal where Peter Budaj becomes the default starter after losing the job to Theodore last season. That is unless he is supplanted by Andrew Raycroft, who couldn't cut it with the woeful Maple Leafs.
Intangibles
The always possible return of Peter Forsberg, who isn't sure if he'll be healthy enough to play again this season. But if he does come back, it will be with Colorado.
Burning Question
Will Granato be better in his second go-round as coach? When Granato was plucked from the broadcast booth midway through the 2002-03 season, he led the Avs to a division title and the Western Conference finals. The following season he finished first again, but lost his job after Colorado was bounced in the opening round. Granato served as an assistant in Colorado after losing the head coaching job and probably learned something from Joel Quenneville. It just might not be apparent this season.
On the Hot Seat
Ryan Smyth, LW
Colorado didn't get its free agent money's worth out of Smyth last season, but he was injured a lot and he is a character player. Still he has something to prove.
Save the Date
March 2 at New York Islanders
The Avs start a six-game road trip that leads into trade deadline and could determine the season for Colorado.
View From the Stands
Dice19 says:
"I hate to say it, but another year in the tank could be great for the future (not that I am wishing for it in any way). We must build through the draft (this year appears to be a good start), the era of signing a team into contention is over. It would be great if we were just one player away from being in contention for the Cup, but we aren't so I am all for sticking with our young guys and getting them experience."
Join the discussion!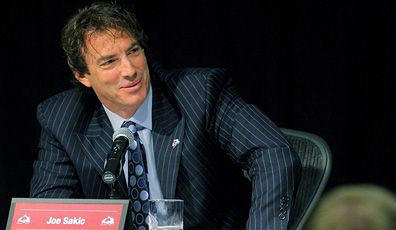 Joe Sakic, who spent his entire career with the franchise and served as captain since 1991, announced his retirement this summer. (Getty Images)
2008-09 in Review
Record: 32-45-5 for 69 points
Finish: 15th in West, 5th in Northwest; Missed playoffs
Goals/Game: 2.32 (30th)
Goals Against/Game: 3.08 (26th)
Power Play: 15.7% (26th)
Penalty Kill: 79.9% (21st)
Generation Next
Matt Duchene, C, 18
The future is now for Colorado, so Duchene should see plenty of action this season. Although he dropped to third at the draft, the playmaker received praise for his all-around ability. His skating and stickhandling skills are top-notch and his leadership qualities have drawn comparisons to those of former captain Joe Sakic. Brampton (OHL) - 57GP-31G-48A-79PTS
In the System
No.
Player, Pos., Age
2008-09 Team, Stats
1
Ryan Stoa, C, 22
Minnesota (WCHA); 36GP-24G-22A-46PTS
2
Kevin Shattenkirk, D, 20
Boston Univ. (HE); 43GP-7G-21A-28PTS
3
Cameron Gaunce, D, 19
Mississauga (OHL); 67GP-17G-47A-64PTS