Wes Goldstein's Take
The Stars were the West's most improved team from the start of last season to finish but they ran out of gas deep in the playoffs against eventual Stanley Cup champion Detroit. But Dallas, which made a big deal at the trade deadline to acquire Brad Richards, showed it had a lot of character, not to mention the ability to complement scorers like him and Brenden Morrow with grittiness and toughness. The Stars added to that part of their game by signing Sean Avery, the former Ranger who may be the league's most reviled player, but one whose time in New York proved he can make a very positive impact in a lineup. The best off-season move by Dallas Stars seems to have been largely overlooked because it took place during the playoffs when they signed Fabian Brunnstrom, a high-coveted Swedish star who was courted by nearly a dozen NHL teams. Dallas did lose a couple of good role players to free agency in Niklas Hagman and Antti Miettinen, but the bulk of the lineup is relatively intact their farm system has been doing a pretty good job of feeding talent in the last couple of years.
Strengths
The Stars have always been one of the league's better defensive teams under coach Dave Tippett in large part thanks to goalie Marty Turco, but they now have a much better offensive element to go along with it. Captain Brenden Morrow has become one of the top leaders in the NHL and Mike Ribeiro and Brad Richards gives Dallas as good a one-two punch at center as any team in the conference. Interestingly, Dallas has been branded as something of a grey beard in recent seasons, and while veterans like Mike Modano, Jere Lehtinen and when he's healthy, Sergei Zubov still play functional roles, the team has transitioned smoothly over the last couple of seasons to a younger lineup.
Weaknesses
Turco had some issues at times last season but worked them out because he was pushed by rookie Mike Smith. However, Smith was part of the price at the deadline to get Richards and now there are concerns in Dallas about the depth at that position. The Stars got off to a middling start last season before turning things around after GM Doug Armstrong was fired, but they continued a bad habit of starting slowly in games throughout the season. In fact, Dallas trailed nearly half of the games it played after the first period, an area that needs improvement.
Intangibles
They found out a lot about themselves with a long playoff run and now get a chance to put those lesson to better use.
Burning Question
Did they peak last season? You have to wonder since they were considered a playoff bubble team at the start and ended up going to the West finals after replacing their GM in midseason with an unusual two-man management team. Especially since the Stars had a dozen players enjoy career seasons. It isn't unrealistic to expect some players, like captain Brenden Morrow and Mike Ribeiro, who are in their prime years to get better either, but the Stars still have a lot of older players in key roles.
On the Hot Seat
Fabian Brunnstrom, LW
Yes, he's a rookie, but he's 23 and was coveted by more than a half-dozen teams.
Save the Date
Dec. 12 vs. Detroit
Rematch of the Western Conference Finals.
View From the Stands
Phatboys says:
"If they get back a healthy Brenden Morrow and Brad Richards then the core of this team is very solid. A top 4 in the West is very possible. The back up goalie is still questionable but better with Alex Auld. There is a glut of defensive defensemen now and I hope that is so a future move can be made."
Join the discussion!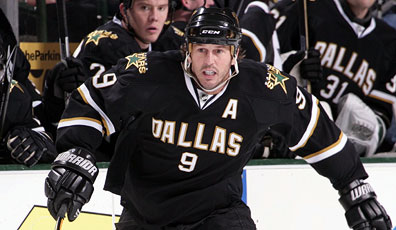 Center Mike Modano returns for his 20th season with the Minnesota/Dallas franchise. (Getty Images)
2008-09 in Review
Record: 36-35-11 for 83 points
Finish: 12th in West, 3rd in Pacific; Missed playoffs
Goals/Game: 2.73 (20th)
Goals Against/Game: 3.06 (25th)
Power Play: 15.4% (27th)
Penalty Kill: 78.6% (24th)
Generation Next
Jamie Benn, LW, 20
A tough, skilled winger with plenty of offensive talent, Benn led his junior club in goals. He's dangerous on the penalty kill as evidenced by his league-leading six shorthanded tallies. Benn also medaled with Team Canada and averaged a point per game at the 2009 World Junior Championship.
Kelowna (WHL) - 56GP-46G-36A-82PTS
In the System
No.
Player, Pos., Age
2008-09 Team, Stats
1
Ivan Vishnevsky, D, 21
Peoria (AHL); 67GP-6G-13A-19PTS
2
Tom Wandell, C, 22
Timra (SWE); 51GP-15G-26A-41PTS
3
Scott Glennie, C, 18
Brandon (WHL); 55GP-28G-42A-70PTS