Wes Goldstein's Take
If the Wall Street bailout didn't convince you, let the Detroit Red Wings prove to you that the rich do get richer. The Red Wings have the NHL's best organization, they're perennial Stanley Cup contenders, and for a guy like Marian Hossa who is desperate to get a ring, that's the place to be. Hossa took far less than he could have earned elsewhere to fit into Detroit's salary cap structure, signing on for one year in a stunning move that upgrades what was already a superbly talented and balanced lineup. Signing Hossa was the highest profile move the Red Wings have made so far, but it wasn't the only important one. In fact, Detroit convinced defenseman Brad Stuart, a trade deadline acquisition who fit in very nicely, to re-sign for a similar hometown discount, and picked up backup goalie extraordinaire Ty Conklin to replace the retired Dominik Hasek. Repeating as Stanley Cup champions has become nearly impossible in the last couple of decades, but Detroit has all the elements to do it.
Strengths
Speed, skill and savvy for starters. No team plays as good a puck possession game as the Red Wings, who make life easy on their goalies by limiting the amount of shots they face on any give night. And you know things are are pretty good when your two best offensive players are also your two best defensive forwards as well. Pavel Datsyuk was the team's leading scorer and won the Selke Trophy while linemate Henrik Zetterberg was his runner-up in both cases. And now they've added Hossa, who handles himself more than adequately at both ends as well. Throw in the league's third best overall offense, the top overall defense and Nick Lidstrom and his six Norris Trophies, and it is hard to find any flaws.
Weaknesses
If you want to get picky, you could say that the Red Wings aren't a particularly tough team, and having an enforcer type around might create a little more space for the shifty forwards, even if they don't really seem to need it. And then there's the dilemma of finding enough ice time for younger players who might be front liners elsewhere, but have trouble breaking in here. The biggest problem Detroit might face this season is complacency. They've dominated regular season play since the lockout, and have rarely faced any legitimate challenges until the playoffs have arrived. Tough life huh?
Intangibles
Scoff at the notion if you like, but the Stanley Cup hangover has been a problem for winners of late.
Burning Question
Can the Red Wings repeat? It has been a decade since any team did it, and when it last happened, it was the Wings who managed the trick. You can wonder if they'll be affected by a Stanley Cup hangover, but if nothing else, Detroit is a team of professional professionals.
On the Hot Seat
Johan Franzen, LW
Despite turning into a scoring machine at playoff time, Johan Franzen is entering his contract year with a team that has several youngsters ready to take his spot.
Save the Date
Oct. 9 vs. Toronto
Opening night at home when the Stanley Cup banner is raised.
View From the Stands
kevin070 says:
"The Wings aren't even close to a rebuilding mode. Most of the Wings best players are signed long-term: Zetterberg, Datsyuk, Franzen, Cleary, Filppula, Rafalski, Stuart, and Kronwall. ... That core alone will keep them Cup contenders far into the future. The first season the Wings and their fans have to worry about it is the first one without Lidstrom. They won't drop off the face of the earth, but it will be huge adjustment for the players and coaches that year."
Join the discussion!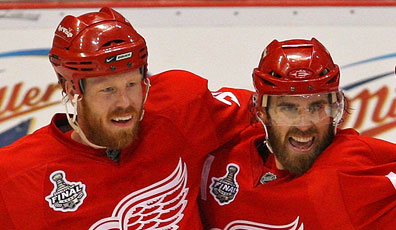 The Olympic break may hit Detroit hard as several Wings -- such as Johan Franzen and Henrik Zetterberg -- are expected to play in Vancouver. (Getty Images)
2008-09 in Review
Record: 51-21-10 for 112 points
Finish: 2nd in West, 1st in Central; Lost Stanley Cup Final
Goals/Game: 3.52 (1st)
Goals Against/Game: 2.93 (20th)
Power Play: 25.5% (1st)
Penalty Kill: 78.3% (25th)
Generation Next
Justin Abdelkader, LW, 22
Abdelkader, who got an extended look during a 10-game stint in the playoffs, will benefit most from the numerous departures this offseason. His skating ability, positioning and willingness to grind make him a perfect fit for Detroit's checking line. The former Michigan State standout also showed he's capable of chipping in offensively. Grand Rapids (AHL) - 76GP-24G-28A-52PTS
In the System
No.
Player, Pos., Age
2008-09 Team, Stats
1
Jakub Kindl, D, 22
Grand Rapids (AHL); 78GP-6G-27A-33PTS
2
Jimmy Howard, G, 25
Grand Rapids (AHL); 2.54GAA-.916SV%
3
Thomas McCollum, G, 19,
Brampton (OHL); 1.94GAA-.929SV%