Wes Goldstein's Take
There will be a new look in Edmonton this season, and not just because the Oilers are introducing a third jersey. The team has a rich, new, local owner who wants to spend money and a new administrative structure with Kevin Lowe moving upstairs to become president and Steve Tambellini replacing him as GM. But the real changes are on the ice, where a talented young team that started to put things together at the end of last season has injected important new elements into the lineup by adding offensive-minded defenseman Lubomir Visnovsky and power forward Erik Cole. The Oilers could be the surprise team of the season.
Strengths
The Oilers are young, fast, and for the most part, developed together. Ales Hemsky is turning into a superstar at age 25 and he'll lead what should be a very dynamic and balanced scoring attack that include Cole, all star center Shawn Horcoff and the kiddie corps of Sam Gagner, Andrew Cogliano and Robert Nilsson. Visnovsky and second-year player Tom Gilbert will get the puck to them and Sheldon Souray, who missed most of his first season in Edmonton with injuries, will add his power play quarterbacking skills.
Weaknesses
For all their go-go ability, Edmonton's forwards are on the smallish side and a bit soft in their game. That's something that could haunt the Oilers in the playoffs if they gets there. And with youth, comes a degree of inexperience, which could come into play this season, especially if some of the rookies who blossomed so nicely last year get hit by a sophomore jinx. The goaltending is suspect as well.
Intangibles
The Oilers looked very good down the stretch, but they were also effectively out of the race when they got hot. Keeping things up when games mean something isn't automatic.
Burning Question
Are they this season's dark horse? That doesn't imply they are a Stanley Cup threat, although the Oilers did come within one game of the title in 2006 when they were a long shot to make the playoffs. What it does suggest, though, is that Edmonton seems to be embarking on a new era, thanks to a new owner with big bucks and even bigger dreams and a team with some serious young talent that might be ready to explode.
On the Hot Seat
Mathieu Garon, G
Garon finished strong and should be the No. 1 guy this season. But he's never held on to the job in previous career stops.
Save the Date
Oct. 15 at Anaheim
Lowe and Ducks GM Brian Burke in the same press box. Google why that should be fun.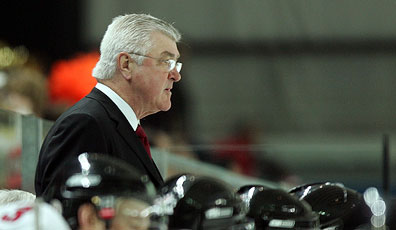 After a successful stint as Team Canada's junior coach, Pat Quinn takes over behind the Oilers bench. (Getty Images)
2008-09 in Review
Record: 38-35-9 for 85 points
Finish: 11th in West, 4th in Northwest; Missed playoffs
Goals/Game: 2.78 (18th)
Goals Against/Game: 2.98 (22nd)
Power Play: 17.0% (22nd)
Penalty Kill: 77.5% (27th)
Generation Next
Jordan Eberle, C, 19
A deceptive forward with an outstanding shot, Eberle is the type of player Edmonton could use to bolster its offense. It doesn't hurt that Oilers coach Pat Quinn got a long look at the pivot during last year's U18 World Championship, where Eberle finished fourth among leading scorers.
Regina (WHL) - 61GP-35G-39A-74PTS
In the System
No.
Player, Pos., Age
2008-09 Team, Stats
1
Jeff Petry, D, 21
Michigan St. (CCHA); 38GP-2G-12A-14PTS
2
Taylor Chorney, D, 22
Springfield (AHL); 68GP-5G-16A-21PTS
3
Jeff Deslauriers, G, 25
Springfield (AHL); 2.73 GAA-.906 SV%