Wes Goldstein's Take
It's been another busy summer for the Panthers, who are definitely different on paper and probably better. Rookie Peter DeBoer will become coach after a very successful junior career, while his predecessor, Jacques Martin, will be upstairs as a full-time GM and longtime captain Olli Jokinen will no longer in the lineup after being traded to Phoenix. The back end has been overhauled with the additions of Keith Ballard, Nick Boynton and Bryan McCabe, and veteran free agent Cory Stillman is expected to pick up some of the slack left by Jokinen. The Panthers have also locked up emerging young forward Rostislav Olesz for six seasons, and escaped having to take No. 1 defenseman Jay Bouwmeester to arbitration for the second consecutive summer. If they can't extend him for a longer term as a result of it, this will probably be Bouwmeester's last season in Florida.
Strengths
The Panthers have a lot of good skaters, which wasn't always apparent because of the plodding style Martin had them play when he was coach. That will change under DeBoer and the system will be helped by the group along the blue line, which is not only different, but much more mobile, aggressive and transition oriented. The goaltending is solid with Tomas Vokoun handling most of the duties and Craig Anderson providing reliable backup. Stillman arrives with Stanley Cup rings from two teams and an ability to score 25 goals or so, and recent first rounders Nathan Horton and Stephen Weiss join David Booth to create an effective top line.
Weaknesses
Trouble on the road. Florida has won only 44 of 123 away games since the lockout ended, which isn't a good thing since they aren't much above .500 at home in that span. Then there's the offense, which was problem even when Jokinen was around. Big seasons from Horton, Weiss and Stillman would help obviously, but Florida is relying a great deal young players who haven't fully shown they are up to the task yet. The Panthers fall short of several other teams in the division and in the conference for that matter at center, and there really isn't much in the way of true leadership in the room.
Intangibles
The Panthers have developed a tendency for strong finishes that haven't been enough to overcome slow starts. A better break from the gate is imperative.
Burning Question
Will the Bouwmeester situation prove to be a distraction? There is some cautious optimism in Florida these days because of a series of moves made over the summer that seems to have upgraded the lineup. Florida wanted to sign him for the long term this summer, but Bouwmeester, who can become an unrestricted free agent next July, opted for a one-year deal instead. He wants to see what direction the team takes before committing, which means his status will be hanging over everything all season.
On the Hot Seat
Jay Bouwmeester, D
The future of Bouwmeester, who can become a free agent next summer, will be an issue until he signs an extension or is traded.
Save the Date
Jan. 6 at Toronto
Bryan McCabe returns to Air Canada Center.
View From the Stands
HurricaneBrian8 says:
"I don't quite understand why so many people are way down on the Panthers this year. They have almost exactly the same team, take away Bouwmeester and replace him with Leopold. I thought Bouw was really good, but not the irreplacable part he's been made out to be, where we will miss him most is on the power play, I think, but McCabe does well there too, when he's healthy of course."
Join the discussion!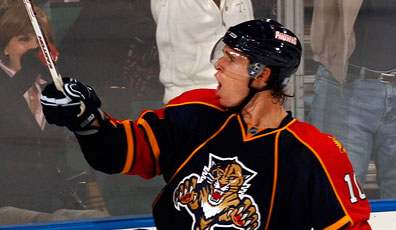 Florida inked leading goal scorer David Booth to a six-year deal during the summer. (Getty Images)
2008-09 in Review
Record: 41-30-11 for 93 points
Finish: 9th in East, 3rd in Southeast; Missed playoffs
Goals/Game: 2.82 (17th)
Goals Against/Game: 2.72 (10th)
Power Play: 16.6% (24th)
Penalty Kill: 82.6% (9th)
Generation Next
Michal Repik, RW, 20
Repik excelled in his first pro season. He led Rochester in points and finished second in goals and assists. The shifty winger joined Florida for five games and netted a pair of goals during the stint. His speed, hands and clutch ability make him a top candidate to grab a spot on the Panthers opening roster.
Rochester (AHL) - 75GP-19G-30A-49PTS
In the System
No.
Player, Pos., Age
2008-09 Team, Stats
1
Jacob Markstrom, G, 19
Brynas (SWE); 2.31 GAA-.921 SV%
2
Shawn Matthias, C, 21
Rochester (AHL); 61GP-10G-10A-20PTS
3
Keaton Ellerby, D, 20
Rochester (AHL); 75GP-3G-20A-23PTS