Wes Goldstein's Take
Terry Murray was hired as coach in large part because he has a lot of patience, a trait that will come in handy with a team that continues to look to the future without worrying much about what happens in the meantime. The Kings will be even younger this season after letting Rob Blake go free and trading offensive-minded defenseman Lubomir Visnovsky to Edmonton. Coming in was a center of nominal ability in Jarret Stoll, and two hard-nosed defensemen in Matt Greene and Denis Gauthier, neither of which are real difference makers. The biggest unresolved issue in Los Angeles continues to be the lack of a clear No. 1 goaltender, something GM Dean Lombardi didn't seem too anxious to address this offseason. Lombardi got burned last season with his free agent moves, so this summer he has gone back to his favorite formula of drafting and developing. Given the high picks the Kings have had in recent years, could pay off in the near future. But by then, will anyone in Los Angeles notice?
Strengths
Lots of first round talent that will be in the lineup or close to cracking it. The Kings have a pretty good group of forwards at the top with Anze Kopitar, Dustin Brown, Alexander Frolov and Patrick O'Sullivan -- if he ever signs. Stoll and Michal Handzus, who was a disappointment last season after signing a lucrative free-agent deal, gives Los Angeles some size and the group collectively should give the Kings the kind of overall offense they had last season when they were 13th in scoring overall.
Weaknesses
The defense has the potential to be very good, but in a couple of years. For now, the Kings figure to go through a lot of growing pains with a young blue line, although the late addition of veteran Sean O'Donnell should bring a bit of a stabilizing presence. The real problem is between the pipes, the way it has been for several seasons. Erik Erseberg was a 25-year-old rookie who came from Sweden last season and proved to be a decent stop gap solution, because Jason Labarbera has been unable to prove he's more than an AHL goalie in his many chances. The Kings hope the answer is 2006 first rounder Jonathan Bernier, but he is likely at least a season away.
Intangibles
Low expectations with a very young team could create some surprising results.
Burning Question
How big a step will their youngsters take this season? The Kings and Murray are obviously not dismissing their playoff dreams at this stage, even though they acknowledge they are in for a long season because of the rebuilding process. There isn't much in the way of veteran leadership on the roster, which means many of the promising youngsters the Kings have drafted in recent first rounds will get a shot to fill the void. With the likes of Kopitar, Brown and Frolov, there is some legitimate talent here. If Murray can provide the right kind of guidance, Los Angeles should be a competitive team in the near future. But that future has to start this season, at least to some extent.
On the Hot Seat
Anze Kopitar, C
Kopitar is a budding superstar who can be a highlight reel type, which means he'll get more attention than anyone else on the Kings on a nightly basis.
Save the Date
Nov. 1 vs. Calgary
First look at Mike Cammalleri since his trade to the Flames.
View From the Stands
Wind_Dodger says:
"The Kings are poised to make the playoffs this year! They have a tremendous amount of skill up front and they have studs on the point that need some critical playing time to push them to another level. If you have reliable yet unspectacular D men like Quincey and Preissing taking up valuable minutes then where does Johnson, Doughty, Hickey and Tuebert get their time. All 4 of those guys have a much higher ceiling than the other two."
Join the discussion!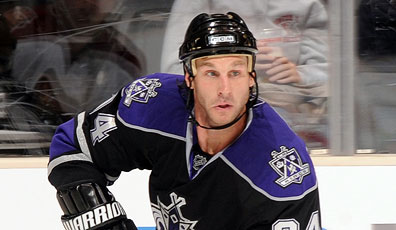 The Kings added experience and leadership to its young roster by trading for veteran forward Ryan Smyth. (Getty Images)
2008-09 in Review
Record: 34-37-11 for 79 points
Finish: 14th in West, 5th in Pacific; Missed playoffs
Goals/Game: 2.46 (27th)
Goals Against/Game: 2.76 (11th)
Power Play: 19.2% (14th)
Penalty Kill: 82.9% (7th)
Generation Next
Jonathan Bernier, G, 21
Two years after making his NHL debut, Bernier is still waiting to stick at the NHL level. He was outplayed in his first full AHL season by Kings goalie Jonathan Quick, but rebounded during the second half of the season. The poised, hybrid goalie is still Los Angeles' future netminder. He's just taking a little longer to get there. Manchester (AHL) - 23-24-4, 2.4 0GAA, .914 SV%
In the System
No.
Player, Pos., Age
2008-09 Team, Stats
1
Thomas Hickey, D, 20
Seattle (WHL); 57GP-16G-35A-51PTS
2
Trevor Lewis, C, 22
Manchester (AHL); 75GP-20G-31A-51PTS
3
Brayden Schenn, C, 18
Brandon (WHL); 70GP-32G-56A-88PTS