Wes Goldstein's Take
The offensively challenged Wild seemed to move sideways this summer, which isn't necessarily a good thing after Minnesota won its division for the first time and then sputtered out of the first round. Since then, the Wild made no attempt to keep two of its top offensive players from leaving via free agency, although Minnesota looks like it strengthened its back end by trading for puck-moving defensemen Marek Zidlicky and Marc-Andre Bergeron. Minnesota identified center as the position it needed to improve on over the summer, then went out and signed four wingers. Two of them, veterans Owen Nolan and Andrew Brunette, are on the back end of their careers. But the biggest issue in Minnesota right now is getting its best player, Marian Gaborik, to agree to a contract extension because he can become an unrestricted free agent next summer.
Strengths
Few teams are as good in one-goal games as Minnesota, which is something you'd expect from a Jacques Lemaire coached team. It's all about defense with him, and he has the horses to play the kind of game he likes with the Wild. There aren't any household names in Minnesota, but Brent Burns and Kim Johansson are great puck movers and the new additions will complement them along with other holdovers Nick Schultz and Kurtis Foster. The goaltending is very good as well with Niklas Backstrom and Josh Harding, and Gaborik is one of the most electrifying players in the league.
Weaknesses
The Wild let go of several tough guys up front this summer, but should be able to offset those losses by adding some size and grit up front with Nolan and Brunette. Still, Minnesota doesn't have much of a physical element in its back end now that Keith Carney and Sean Hill are gone and that's not a good thing in the Western Conference. The Wild's lack of offense beyond Gaborik is apparent, certainly much more so that the problems they have in the faceoff circle, which is why they were desperate to snag a center or two.
Intangibles
Lemaire, 62, didn't hide his frustration last season. In fact, he had to be convinced to return.
Burning Question
How much of a problem will Gaborik's situation be? He's their franchise player, the team's first-ever draft pick and the best scorer on a team that has never been known for offense. Gaborik is entering his prime at age 25 and since he can become an unrestricted free agent next summer, the Wild understandably want to lock him up for the long term. There's still time of course, but if this gets too far into the season, Minnesota will have to seriously consider trading their star rather than losing him for nothing. That means there will be distractions surrounding the team, something that won't help the Wild.
On the Hot Seat
Niklas Backstrom, G
Backstrom was less than impressive last season and is entering his contract year.
Save the Date
Nov. 6 at Colorado
A month into the season, Minnesota faces its first Northwest Division rival, the one that knocked it out of the playoffs.
View From the Stands
epbenson says:
"We got a new GM, coach, and a new franchise player (kinda) in Havlat after dumping Captain Glass Groin. Maybe we should lose the name Wild and rename the team as the new inception of the North Stars."
Join the discussion!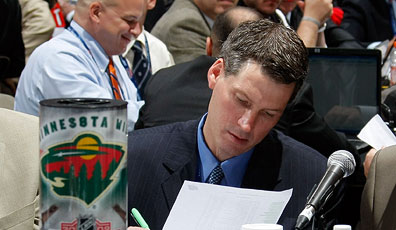 Minnesota's biggest moves were off the ice with Chuck Fletcher (pictured) taking over as GM, and Todd Richards as coach. (Getty Images)
2008-09 in Review
Record: 40-33-9 for 89 points
Finish: 9th in West, 3rd in Northwest; Missed playoffs
Goals/Game: 2.61 (22nd)
Goals Against/Game: 2.40 (2nd)
Power Play: 20.1% (9th)
Penalty Kill: 87.6% (2nd)
Generation Next
Petr Kalus, LW, 22
Upset about not making last year's squad, Kalus bolted for Russia in what turned out to be a bust of a stint in the KHL. The winger, who can also line up at center, boasts speed, good hands and a quick shot. Those assets make him a better fit in Minnesota's new, offensively minded system.
Balashikha (KHL) - 17GP-0G-2A-2PTS
In the System
No.
Player, Pos., Age
2008-09 Team, Stats
1
Tyler Cuma, D, 19
Ottawa (OHL); 21GP-1G-8A-9PTS
2
Morten Madsen, C, 22
Houston (AHL); 56GP-6G-16A-22PTS
3
Clayton Stoner, D, 24
Houston (AHL); 63GP-2G-22A-24PTS