Wes Goldstein's Take
Somewhere out there, a script is waiting to be written with the kind of magical ending they could only envision in Hollywood. Or in Montreal, where there is a tremendous amount of expectation surrounding the NHL's most iconic team as it enters its centennial season in search of a 25th Stanley Cup. The scenario might have seemed ludicrous 12 months ago when few expected Montreal to even make the playoffs, but the Habs defied logic by finishing first in the Eastern Conference and setting the stage for bigger things this season. Montreal still has all its key pieces in place and it actually enhanced its high powered offense by trading for forwards Alex Tanguay and Robert Lang, while adding some much needed muscle with the game's best enforcer, Georges Laraque.
Strengths
You can't call them the Flying Frenchmen any more because their lineup isn't dominated these days by Quebec natives, but the speed and skill of this team makes comparisons appropriate at the very least. The Canadiens are one of the younger teams in the league as well, but the majority of players have come up through the system and grown together as a result. The power play is the best in the league and the team's overall offense ranked second, so you know Montreal will score goals, and the Canadiens are just as tough on the road as they are at home.
Weaknesses
Size isn't supposed to matter that much in the NHL any more, but the lack of it proved to be a problem at times last for Montreal. Laraque will keep some teams honest, but expect opponents to at least try to push the Canadiens around more often this time. Montreal's depth at the blue line raises some questions as well because while Andrei Markov, Roman Hamrlik and Mike Komisarek give the Habs a solid top three, the rest of the group behind them can make life interesting. Especially since the Habs are going with a pair of goalies who are barely old enough to drink.
Intangibles
Unlike last season, the Canadiens won't be able to sneak up on anyone this time around which will create additional pressure in a season that promises to be full of it.
Burning Question
Will they be able to handle the expectations surrounding them? There is always a lot of pressure on the Canadiens because of their storied past and demanding market place. But this season is shaping up to be exceptional in that regard for a young group of players whose organization celebrates its 100th anniversary and is in search of a record 25th Stanley Cup. The joke in Montreal was always that fans stood behind the team win or tie. Well, they don't have ties anymore in the NHL.
On the Hot Seat
Carey Price, G
Few positions in sport get as much scrutiny as playing goalie in Montreal. Price got a taste of it as a rookie last season, but now the job is officially his.
Save the Date
Oct. 13 at Philadelphia
The Canadiens get their first chance for revenge against the team that eliminated them last spring.
View From the Stands
Loyal_Hab says:
"I'm not delusional, I don't for one second think that this is going to be a season of triumph after triumph culminating in a Stanley cup parade, but I don't think getting beat up is going to be our biggest problem, developing chemistry fast will be. Like [Steve] Begin said after Toronto tried to goon it up with Boston this week -- 'They are going to be a tougher team to play this year, but somewhere in those 60 minutes, you have to play hockey to win.'"
Join the discussion!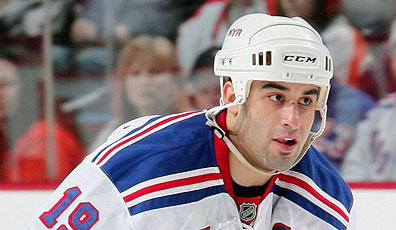 Montreal completed a minor overhaul of its offense during the summer by trading for Scott Gomez. (Getty Images)
2008-09 in Review
Record: 41-30-11 for 93 points
Finish: 8th in East, 2nd in Northeast; Lost Conf. Quarterfinals
Goals/Game: 2.95 (13th)
Goals Against/Game: 2.93 (21st)
Power Play: 19.2% (13th)
Penalty Kill: 82.4% (11th)
Generation Next
P.K. Subban, D, 20
Subban finished his junior career with a stellar showing, finshing second in the OHL with 62 assists. He's a workhorse who can have a huge impact in big games as evidenced by his performance at the 2009 World Junior Championship. The fast, powerful puckmover will spend a little time in Hamilton first.
Belleville (OHL) - 56GP-14G-62A-76PTS
In the System
No.
Player, Pos., Age
2008-09 Team, Stats
1
Yannick Weber, D, 21
Hamilton (AHL); 68GP-16G-28A-44PTS
2
Ben Maxwell, C, 21
Hamilton (AHL); 73GP-22G-36A-58PTS
3
Louis Leblanc, C, 18
Omaha (USHL); 60GP-28G-31A-59PTS