Wes Goldstein's Take
Don't tell this to new coach Scott Gordon, who is getting his first crack at an NHL job, but Long Island is a place where many NHLers like to live, just not to play. That's why the Islanders have trouble attracting free agents unless they overpay or are willing to sign players who really have few other options. So the Islanders, whose offense was among the worst in the league, threw a $20 million multi-year deal at defenseman Mark Streit, who is a good power play quarterback, and signed Doug Weight for one year. Streit is effective on the power play, but his defensive skills are so iffy that his former coach in Montreal often had him playing on the wing rather than the blue line at even strength. Weight meanwhile, has probably seen his best days, but might get a charge out of playing with old buddy Bill Guerin and alongside some of the many youngsters who will fill out the Isles roster this season.
Strengths
Rick DiPietro can be one of the league's top goalies and as far as the Islanders are concerned, he's a franchise player, but one who tends to get hurt a lot. But if he stays in the lineup, he'll have a pretty decent crew in front of him, led by veterans Brendan Witt, Andy Sutton and Radek Martinek, all of whom spent extended periods on injured reserve last season. Streit's shot from the point will help the power play, and up front Mike Comrie produces as well as one can expect from someone who doesn't get much support. This is a rebuilding phase again for the Islanders and veterans like Guerin, Weight and Mike Sillinger offer the kind of leadership you need in the process.
Weaknesses
Start with the league's worst offense, the second worst power play and an overall defense that was in the bottom third and you get the picture. Truth is that GM Garth Snow hasn't been able to attract or keep high profile players, so he's focused on the draft which may pay off in a couple of years. For now, there is not much depth in the organization, at least not enough to help in the near term. And if DiPietro goes down again, watch out.
Intangibles
Youthful enthusiasm from rookies like Kyle Okposo, Josh Bailey and sophomore Blake Comeau who should get large roles this season.
Burning Question
When will thinking outside the box reap some rewards? Certainly not this season, because it's shaping up to be worse for the Islanders than the last one. Rookie coach Scott Gordon will bring a lot of enthusiasm to his new job, but that really wasn't a problem with his predecessor Ted Nolan, who was hired by the Islanders when nobody else in the league would touch him for a decade. Problem is that enthusiasm won't make up for a lineup that has little to get excited about on the surface.
On the Hot Seat
Mark Streit, D
Streit got the kind of money few observers thought he deserved and he'll feel the pressure of that deal all season.
Save the Date
Oct. 27 at New York Rangers
First meeting of the season against their biggest rival.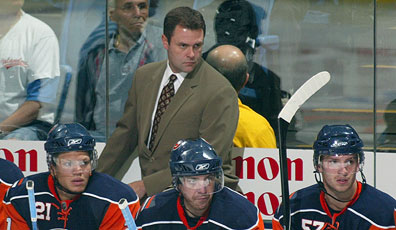 New York boasts some good, young talent, but it figures to be another long season for coach Scott Gordon (above) and the Isles. (Getty Images)
2008-09 in Review
Record: 26-47-9 for 61 points
Finish: 15th in East, 5th in Atlantic; Missed playoffs
Goals/Game: 2.42 (29th)
Goals Against/Game: 3.34 (28th)
Power Play: 16.9% (23rd)
Penalty Kill: 79.8% (22nd)
Generation Next
John Tavares, C, 18
Islanders fans will like the fact scouts have compared Tavares, who scored 215 goals in his junior career, to Hall of Famer Mike Bossy. Tavares may need a few years to evolve into the superstar he's projected to become. In the meantime, the pivot will bring electricity to an otherwise dull offense.
London (OHL) - 56GP-58G-46A-104PTS
In the System
No.
Player, Pos., Age
2008-09 Team, Stats
1
Jesse Joensuu, RW, 21
Bridgeport (AHL); 71GP-20G-19A-39PTS
2
Jack Hillen, D, 23
Bridgeport (AHL); 33GP-4G-13A-17PTS
3
Trevor Smith, C, 24
Bridgeport (AHL); 76GP-30G-32A-62PTS