Wes Goldstein's Take
The Senators got rid of a really big headache when they bought out goalie Ray Emery, which means that Ottawa also lost the most convenient excuse it had for falling apart last season. But there have been several other changes for the Senators who were fragile for other reasons are and trying to get back on the track that took them to the Stanley Cup Finals in 2007. The most notable was the departure of defenseman Wade Redden, who was considered the anchor of the blue line not that long ago. Veterans Cory Stillman and Mike Commodore also took the free agent train out of town, and the Senators really haven't managed to fill all those voids yet, although former Flyers captain Jason Smith should be a good free agent addition to the back end. Ottawa signed agitator Jarkko Ruutu and backup goalie Alex Auld as well, but there will be as many question marks heading into the new season as when the last one ended.
Strengths
Dany Heatley is a 50-goal scorer when he's healthy and along with Jason Spezza and Daniel Alfredsson forms what is one of the league best lines. But the goals come in bunches comes from several other sources as well which means the Senators will never have a problem producing offense. The blue line has lost several key members over the last couple of seasons, but Chris Phillips is one of the best stay at home types in the league and Anton Volchenkov is a shot blocking machine. Smith is pretty good in that department as well, and he brings a good veteran leadership element as well.
Weaknesses
The Senators are a team that is built on skill, but outside of Chris Neil, there is little in the way of toughness. That tends to show through in the playoffs, when Ottawa's failings are often ascribed to a lack of "character." On a more tangible level, the Senators head into the new season with some concerns about its defense, particularly in terms of its puck moving ability. And as usual, there are question marks in goal, an area that has long been an Achilles Heel in Ottawa.
Intangibles
Now that the destructive elements have been cleared out of the dressing room, the Senators have to prove they are still an elite team.
Burning Question
Was it all Ray Emery's fault? The idiosyncratic goaltender was an easy target for blame during Ottawa's meltdown last season, and he certainly brought some of it on himself with his erratic behavior. Then again, Senators have developed a habit of finding reasons for failing to live up to expectations over the years, so you have to wonder. Anyway, Emery is in Russia now, and a team that has always had a reputation for lacking character and grit has gone through a serious roster overhaul.
On the Hot Seat
Martin Gerber, G
Gerber couldn't deal with the pressure of his first season in Ottawa and the looming presence of Emery last season. It's his show now and he has to deliver.
Save the Date
Nov. 20 vs. Montreal
First meeting against toughest division rival.
View From the Stands
bigrick says:
"Anybody at the opposite end of a Spezza pass for an entire season will have potential to score 50 goals. Cheechoo is a previous 50 goal scorer. Albeit Cheechoo has had injury problems ... a change may do him good. Milan Michalek is a player to get excited about. He brings a big frame to the left wing and battles hard for every point he amasses, He's young and a willing competitor. I'm really excited to see what kind of energy he brings to the rink."
Join the discussion!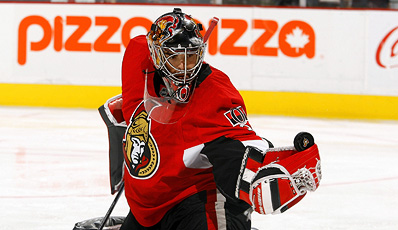 Assuming he can stay healthy, Pascal Leclaire gives Ottawa a potential game breaker in net. (Getty Images)
2008-09 in Review
Record: 36-35-11 for 83 points
Finish: 11th in East, 4th in Northeast; Missed playoffs
Goals/Game: 2.60 (23rd)
Goals Against/Game: 2.82 (15th)
Power Play: 19.5% (10th)
Penalty Kill: 81.5% (15th)
Generation Next
Erik Karlsson, D, 19
The undersized defenseman reeks of offensive ability. Karlsson earned top defenseman honors at the 2009 World Junior Championship after leading blueliners in scoring. The Swede is quick, agile and boasts superb puckmoving and shooting ability. He should see some time at the NHL level this season.
Frolunda (SWE) - 45GP-5G-5A-10PTS
In the System
No.
Player, Pos., Age
2008-09 Team, Stats
1
Brian Elliott, G, 24
Binghamton (AHL); 2.31GAA-.926SV%
2
Peter Regin, C, 23
Binghamton (AHL); 56GP-18G-29A-47PTS
3
Cody Bass, C, 22
Binghamton (AHL); 18GP-1G-1A-2PTS