Wes Goldstein's Take
No team was busier before last season than the Flyers, who underwent a major and expensive roster overhaul. It was worth it though because Philadelphia had a remarkable turnaround season and made it all the way to the league's final four. It also meant there was a lot less to do on a team that could go further this time around, particularly since high scoring winger Simon Gagne is returning from a concussion. Philadelphia did have to plug some holes that are the inevitable consequence of the salary cap era after losing veteran defenseman and captain Jason Smith and forward R.J Umberger, who were both important contributors last season, particularly during the playoffs. However, the Flyers filled those voids adequately with forwards Aaron Asham and Glen Metropolit and hard-hitting defenseman Ossi Vaananen and they got Jeff Carter to sign an extension that kept him from hitting the free agent market, which was important.
Strengths
This is a well-balanced and effectively coached team with as good a level of depth as any team in the conference. And the best thing about the Flyers may be that they are still pretty young with a lot of upside thanks to having more than a half dozen recent first-round draftees in the lineup. Philadelphia arguably has the the East's best offense thanks to the way it spreads the scoring over at least three lines and young captain Mike Richards is developing into one of the games best leaders. The blue line group led by the vastly underrated Kimmo Timmonen and emerging Braydon Coburn isn't too shabby either.
Weaknesses
No one will mistake this team for the Broad Street Bullies, which is probably a good thing, but the Flyers had a tendency to hurt themselves last season because of a lack of discipline. Consequently, several of their more, er, shall we say impulsive players -- are you listening Steve Downie? -- will be under closer scrutiny by on and off ice officials. Other concerns include a lack of overall experience on defense, and developing the kind of consistency the Flyers displayed late in the season and into the playoffs because a couple of earlier extended slumps nearly ruined their campaign.
Intangibles
Passing the torch to younger leaders is a good thing, but losing veteran voices like Smith and Derian Hatcher from the room at the same time could have an impact.
Burning Question
Can Simon Gagne return to form? The veteran left winger is only 28, but he has already played in nine NHL seasons and developed a reputation as one of the game's top stars. But he played only 25 games last season because of multiple concussions, and those kinds of injuries always create question marks. If he's healthy -- and he says he is -- he should play alongside Daniel Briere and provide a serious boost to a Flyers offense that ranked sixth in the league last season.
On the Hot Seat
Daniel Briere, C
Briere earned his salary late in the season and in the playoffs, but the Flyers need their highly paid star to produce from the beginning.
Save the Date
Oct. 14 at Pittsburgh
An early rematch against the team that ended their Stanley Cup dreams.
View From the Stands
natedoggg9 says:
"[Claude Giroux] has something that very few players have, and it's hard to define. The puck seems to find his stick on its own. He's like Mike Richards, except with better hands. I'd like to see him get more of a chance on the power play, and who knows, he might be on the first line."
Join the discussion!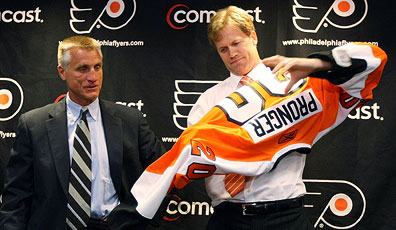 The Flyers boast one of the Eastern Conference's toughest defenses now that Chris Pronger patrols the blue line. (Getty Images)
2008-09 in Review
Record: 44-27-11 for 99 points
Finish: 5th in East, 3rd in Atlantic; Lost Conf. Quarterfinals
Goals/Game: 3.17 (5th)
Goals Against/Game: 2.83 (16th)
Power Play: 22.5% (6th)
Penalty Kill: 83.0% (6th)
Generation Next
James van Riemsdyk, LW, 20
Two years after being selected second overall, van Riemsdyk is ready to make the jump to the pro level. A creative playmaker who uses his size and soft hands well, van Riemsdyk is a prototypical power forward. He'll compete for a spot on the Flyers' third line during camp, but may need some time at the AHL level.
New Hampshire (HE) - 36GP-17G-23A-40PTS
In the System
No.
Player, Pos., Age
2008-09 Team, Stats
1
Jonathan Kalinski, C, 22
Philadelphia (AHL); 46GP-10G-7A-17PTS
2
Michael Ratchuk, D, 21
Philadelphia (AHL); 77GP-5G-12A-17PTS
3
Oskars Bartulis, D, 22
Philadelphia (AHL); 80GP-2G-11A-13PTS