Wes Goldstein's Take
The rebuilding process under coach Wayne Gretzky never seems to end, in large part because Phoenix doesn't have money to spend and when it does, few players want to go there of their own volition. Still, the Coyotes did show some signs of progress last season thanks to the maturing of some talented youngsters the team has drafted in recent years. First round picks Michael Boedker and Viktor Tikhonov, grandson of the legendary former Soviet coach, might join the group, which will get lots of protection thanks to head-banging newcomers Brian McGrattan, Todd Fedoruk and Francis Lessard. Phoenix did make one major move this off-season trading for center Olli Jokinen, who has been one of the league's most under-appreciated talents over the last several seasons in Florida. The deal cost the Coyotes defenseman Nick Boynton and Keith Ballard, but free agent signees Kurt Sauer and David Hale should balance those losses out.
Strengths
Goalie Ilya Bryzgalov, who arrived at Thanksgiving, stabilized the position for the Coyotes and gave them someone who provides a chance to win every night. That's important psychologically for a team brimming with youthful enthusiasm and the potential for a pretty good offense now that Jokinen has joined a lineup that includes an excellent power forward in Shane Doan and impressive sophomores Peter Mueller and Martin Hanzal. Kyle Turris, a first round pick in 2007, had a cup of coffee late last season and has star potential, and veterans Ed Jovanovski and Derek Morris proves leadership and punishing presences on the blue line.
Weaknesses
The youth that brings enthusiasm also creates problems because of the lack of experience and that can be frustrating. Especially since the team is trying to work in so many new pieces to the puzzle. Truth is the Coyotes are bringing along a lot of good young players but there are still depth issues up front and especially along the blue line because of the losses of a couple of key veterans. Phoenix struggled with its penalty killing last season and could face more problems this time because the best member of the unit, Mattias Tjarnqvist, isn't coming back.
Intangibles
Having Gretzky around as coach means something for a club with so many impressionable kids around.
Burning Question
Will Phoenix finally rise? Part owner Wayne Gretzky has been coaching the Coyotes since the lockout ended and has never gotten the team close to a playoff berth. But things could be different because he has more depth and talent on his roster than ever before. The Coyotes start the season with a legitimate No. 1 goalie in Ilya Bryzgalov, they upgraded their offense with the addition of former Florida captain Olli Jokinen and toughened up with newcomers Brian McGrattan and Todd Fedoruk. And there is some more freshman talent like Kyle Turris and Mikkel Boedker on the way this year for the Great One to work with.
On the Hot Seat
Olli Jokinen, C
Jokinen was never really cut out for his leadership role as captain in Florida, but he'll have that burden removed in Phoenix.
Save the Date
Nov. 8 vs. Florida
Boynton and Ballard come back home.
View From the Stands
sammy HAGAR says:
"A brand new arena and they bolt so fast? Huge mistake I think. [The Coyotes] aren't a novelty, they are a losing franchise that needs to turn it around to survive. The notion that the residence of ARIZONA are hockey stupid pisses me off, and I don't even live there! I got to think that some people that live in a warm weather climate know some hockey ... don't they?"
Join the discussion!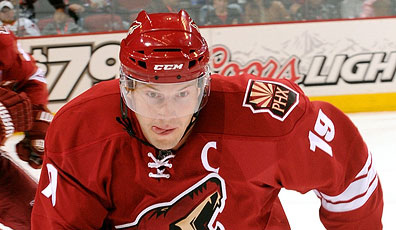 Coyotes captain Shane Doan finds himself saddled with the task of keeping his teammates focused amid off-ice turmoil. (Getty Images)
2008-09 in Review
Record: 36-39-7 for 79 points
Finish: 13th in West, 4th in Pacific; Missed playoffs
Goals/Game: 2.50 (26th)
Goals Against/Game: 3.04 (24th)
Power Play: 14.5% (28th)
Penalty Kill: 76.8% (28th)
Generation Next
Brett MacLean, LW, 20
MacLean may not have the greatest skating skills, but he more than makes up for it with his offensive talent. The winger boasts a wide array of quick, accurate shots and has all the tools of a playmaker. He excelled in his pro debut with San Antonio, where he finished second in goals and represented the team at the AHL All-Star Game. San Antonio (AHL) - 74GP-21G-19A-40PTS
In the System
No.
Player, Pos., Age
2008-09 Team, Stats
1
Maxim Goncharov, D, 20
CSKA (KHL); 47GP-7G-7A-14PTS
2
Jonas Ahnelov, D, 21
San Antonio (AHL); 43GP-1G-6A-7PTS
3
Chad Kolarik,
San Antonio (AHL); 76GP-20G-30A-50PTS