Wes Goldstein's Take
The complete overhaul of the Lightning could pay big dividends or it might bomb. But the frantic makeover driven by the new owners since they took over in June should continue to be fun to watch. The duo of Oren Koules and Len Barrie started their new regime by drafting Steven Stamkos first overall, and then quickly changed the organization from top to bottom. Barry Melrose was hired as the coach, GM Jay Feaster was dumped and replaced by a new management team and the owners have been actively involved in making player moves on a daily basis. The Lightning spent a lot of money even before extending franchise player Vincent Lecavalier for 11 years, and most of it was directed to forwards. Among them were scorers Ryan Malone, Vaclav Prospal and Radim Vrbata, but the weakest part of Tampa Bay's game last season was defense, and after their first two games in Europe, it seems as though the Lightning has not really addressed that issue so far.
Strengths
Excellent firepower up front starting with Lecavalier, Martin St. Louis and Prospal, who head up a really solid and balanced overall group of forwards. In fact, the Lightning are deeper through four lines than most teams in the league thanks to all the frenetic changes. There is some excellent leadership as well with veterans Gary Roberts and Mark Recchi, and plenty of grit with Malone and Chris Gratton. And for the first time since Nikolai Khabibulin left after the lockout, Tampa Bay starts a season having some confidence in its goalies with sophomore Mike Smith expected to handle most of the chores and veteran Olaf Kolzig supporting him.
Weaknesses
Chemistry 101. Once everybody catches their breath from all the changes, there will be the matter of getting them all on the same page, which has to be the biggest challenge for a coaching staff that was a big part of the overhaul. That's going to be a particular challenge on the blue line, which wasn't great last season when the team finished 30th overall in defense and moved out four of the top six players. The replacements are young, generally inexperienced and without a true No. 1 type among them. Unquestionably, this is the weak link on the team.
Intangibles
Dan Boyle was unceremoniously pushed out, mainly because his salary was too onerous, but the important role he played in Tampa Bay's transition game will become more apparent as the season progresses.
Burning Question
Is the reality as good as the fantasy? Koules and Barrie shook up the organization from top to bottom, changing the GM, coaching staff and scouting personnel while overhauling the roster with a series of bold and often stunning free-agent and trade moves. Tampa Bay will have more than a half-dozen new forwards, at least three new defensemen on a very young and inexperienced blue line and a new veteran goaltender to go along with a sophomore it picked up mid-season. It could be an interesting mix for a franchise that was dead last a season ago -- or a disaster.
On the Hot Seat
Barry Melrose, Coach
Melrose is coaching again after spending more than a decade as a broadcaster because the new owners believe his motivational talents are perfect for this massively changed team. We'll see.
Save the Date
Oct. 25 vs. San Jose
Boyle returns with the Sharks.
View From the Stands
AdamsAtom says:
"Bolts did a great job here landing Antero Niittymaki. It really was their best case scenario in terms of goalies that were left. This guy is really going to push Mike Smith for his #1 job and I think it will make both goalies better knowing that they better bring their A game every night because of the other sitting on the bench."
Join the discussion!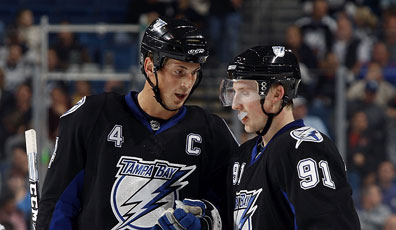 Vincent Lecavalier (left) and Steven Stamkos (right) give Tampa Bay a strong threat up the middle. (Getty Images)
2008-09 in Review
Record: 24-40-18 for 66 points
Finish: 14th in East, 5th in Southeast; Missed playoffs
Goals/Game: 2.52 (25th)
Goals Against/Game: 3.28 (27th)
Power Play: 17.8% (19th)
Penalty Kill: 78.0% (26th)
Generation Next
Victor Hedman, D, 18
A boy playing against men in Sweden, Hedman dominated the competition. The steady defenseman boasts a heavy one-timer, which should benefit the Bolts' offense and power play. He will likely end up partnering with countryman Mattias Ohlund on the blueline and could earn workhorse-like minutes as the season progresses. MoDo (SWE) - 43GP-7G-14A-21PTS
In the System
No.
Player, Pos., Age
2008-09 Team, Stats
1
Martin Karsums, LW
Providence (AHL); 43GP-17G-24A-41PTS
2
Ty Wishart, D, 21
Norfolk (AHL); 61GP-1G-6A-7PTS
3
Carter Ashton, RW, 18
Lethbridge (WHL); 70GP-30G-20A-50PTS