Wes Goldstein's Take
How bad can things be for a team where fans need to get in someone's will to get a ticket? It's a situation several other franchises would love to experience, but in Toronto, it allows the team to give their fans the Finger. Nothing personal against Jeff Finger, who may be good enough to be a marginal fourth defenseman, but signing the former Colorado player with limited NHL experience to a four-year, $14 million deal qualifies as a bit of an insult to a long-suffering fan base when there were several other top flight defensemen available. And bringing back again local hero Curtis Joseph isn't enough to offset that. Then again, maybe it's all part of the plan to ensure Toronto gets the first overall pick next spring when John Tavares is available. In the meantime, Toronto seems intent on shuffling the deck chairs, at least those that they can. They've rid themselves of a couple of salary albatrosses in Darcy Tucker and Andrew Raycroft, and brought in the aforementioned Finger, Niklas Hagman and Jamal Mayers among other spare parts. It's going to be a trying season for Ron Wilson, the generally quotable new coach who might run out of things to say before long.
Strengths
Wilson is a good coach who can make the most of a weak lineup by getting it to bring other teams down to its level. That won't win the Leafs many games, but it should keep several close enough to make life somewhat palatable. Actually, it's not a total disaster here because Vesa Toskala is a quality netminder, Tomas Kaberle is among the better two-way defensemen around and some of the players who have come through the system in recent years like Matt Stajan, Alexei Ponikarovsky and Alexander Steen have shown flashes and might surprise with bigger roles. Or not.
Weaknesses
Let's see, now. Toronto's defense ranked 27th last season, the penalty kill was 29th and two of the top three blue liners from that group won't be around when the first puck is dropped. Then add in the fact that the Toronto's top scorer and best player is out of the picture and there is a general lack of talent throughout the lineup and you get an idea of how tough this season is going to be.
Intangibles
Former captain Mats Sundin is back home in Sweden, apparently not interested in playing any more, but his shadow will continue to hang over the Leafs all season.
Burning Question
Just how bad will this team be? Since it plays in Toronto, there will always be wishful thinkers who see a playoff spot in the future. Chances are they'll be disabused of that notion by, oh, say, Halloween, and focusing instead on the Leafs shot at getting the first pick in next June's draft. The truth is this season is really the first real stage of interim GM Cliff Fletcher's rebuilding effort. The best move Toronto made might have been getting Ron Wilson to coach, but the Leafs aren't giving him much to work with.
On the Hot Seat
Jason Blake, LW
Blake had a miserable season after signing a big free agent contract because he was diagnosed with a treatable form of cancer. He is reported to be healthy and will feel the pressure to live up to his deal.
Save the Date
Jan. 29 at Colorado
Think Darcy Tucker will take a run at some players from the team that ran him out of town?
View From the Stands
canuck23 says:
"I expect the Leafs to definitely be a better team and to compete for a low seed for the playoffs, but I won't go as far as to say they will make the playoffs for sure. I do hope that they finish no more than 2-4 points out of the playoffs at worst though. The thing I look forward to most is fielding a more competitive team on a consistent basis and seeing what some of these young guys do this year."
Join the discussion!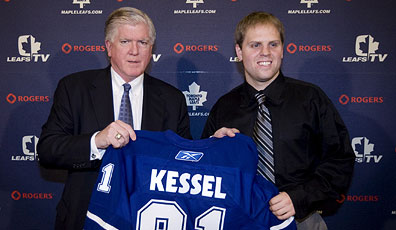 GM Brian Burke (left) acquired restricted free agent holdout Phil Kessel (right) from the Bruins for draft picks. (Getty Images)
2008-09 in Review
Record: 34-35-13 for 81 points
Finish: 12th in East, 5th in Northeast; Missed playoffs
Goals/Game: 2.98 (10th)
Goals Against/Game: 3.49 (30th)
Power Play: 18.8% (16th)
Penalty Kill: 74.4% (30th)
Generation Next
Tyler Bozak, C, 23
Bozak led the Pioneers in scoring during his freshman season, but followed that with a shortened season due to a knee injury. An undrafted, free-agent signee, Bozak is a tough, two-way center who excels in the faceoff circle. The pivot added 25 pounds of muscle before arriving at Leafs camp.
Denver (WCHA) - 19GP-8G-15A-23PTS
In the System
No.
Player, Pos., Age
2008-09 Team, Stats
1
Nazem Kadri, C, 18
London (OHL); 56GP-25G-53A-78PTS
2
Christian Hanson, RW, 23
Notre Dame (CCHA); 37GP-16G-15A-31PTS
3
Viktor Stalberg, LW, 23
Vermont (HEAST); 39GP-24G-22A-46PTS