Wes Goldstein's Take
The Canucks' new GM Mike Gillis wanted to make a big splash this summer, but it wasn't in the cards. The team needed to add some offense, especially after Markus Naslund and Brendan Morrison signed elsewhere, but the Canucks were unable to work a deal during the busy trading that went on at the draft and had little luck attracting high-profile free agents. Not even $20 million over two years could attract Mats Sundin. For the most part, Vancouver was able to bring in complementary types. There were a couple of notable additions to the fold in Pavol Demitra, a former Gillis client who turns 34 in November, and Steve Bernier. On the whole, though, Vancouver didn't really keep paces with several conference rivals who upgraded their lineups and will likely need goalie Roberto Luongo to stand on his head again for the team to stay near the playoff bubble.
Strengths
If Luongo isn't the best goalie in the game right now, he's one of them. He didn't have a great season last year, for a variety of reasons -- some personal and because the group in front of him suffered a ridiculous number of injuries. When healthy, Vancouver actually has a very solid top six along the blue line. The offense, such as it is, revolves around the Sedin twins, although Demitra and Bernier should help.
Weaknesses
The Canucks didn't score much last season, which made for some boring hockey in Vancouver and a lot of close, tough games for Luongo. Their top two lines may be the weakest in the conference. And for all the dependability in their own end, Vancouver's defensemen aren't particularly good puck movers and not very physical as a group. The team could use a power play quarterback as well.
Intangibles
Lots and lots of cap space, which puts the Canucks in better position than most to make upgrades during the season.
Burning Question
How much can they expect of Luongo? In the minds of many, Luongo is the league's best goalie, although he is coming off a mediocre season by his standards. Luongo didn't have much support from a team that had little else going for it, not to mention the distraction of his wife going through a difficult first pregnancy on the other side of the continent in Florida. Gillis tried to make a splash this summer in hopes of turning Vancouver into a playoff contender, but ultimately failed and was left with a lineup that will need Luongo at his best to get close.
On the Hot Seat
Pavol Demitra, RW
Demitra was the highest priced acquisition this summer, which means that he'll be expected to produce more than what might be realistic.
Save the Date
Nov. 19 at New York Rangers
First look at former captain Markus Naslund in another uniform.
View From the Stands
FalconFleming says:
"We will have a top 3 goalie holding the team together at a bargin price. [Luongo] had the team in mind when signing this contract and we can now persue other players in future years with the smaller cap hit Roberto is taking. Also, this will draw other players to Vancouver. They want to play with a contender and with such a stud in the net, how can we not contend?"
Join the discussion!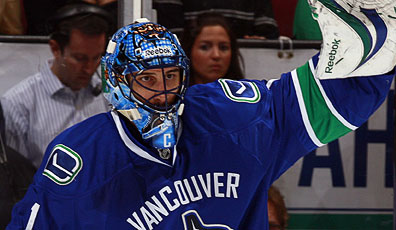 Roberto Luongo assured he will finish his career in Vancouver by signing a 12-year, $64 million extension over the summer. (Getty Images)
2008-09 in Review
Record: 45-27-10 for 100 points
Finish: 3rd in West, 1st in Northwest; Lost Conf. Semifinals
Goals/Game: 2.96 (11th)
Goals Against/Game: 2.60 (7th)
Power Play: 18.8% (17th)
Penalty Kill: 81.4% (16th)
Generation Next
Cody Hodgson, C, 19
Hodgson is a solid all-around player with a knack for scoring. He dominated his peers at the international level, finishing as the top scorer in both the U18 and U20 World Championships in 2009. The two-way pivot suffered a back injury during the summer, but should be ready to play when the season begins.
Brampton (OHL) - 53GP-43G-49A-92PTS
In the System
No.
Player, Pos., Age
2008-09 Team, Stats
1
Cory Schneider, G, 23
Manitoba (AHL); 2.04 GAA-.928 SV%
2
Michael Grabner, RW 21
Manitoba (AHL); 66GP-30G-18A-48PTS
3
Jordan Schroeder, C, 19
Minnesota (WCHA); 35GP-13G-32A-45PTS