10m synchro gold sets Chinese up for sweep; U.S. takes bronze
China could be on its way to a sweep of the diving gold medals after winning the 10-meter synchronized platform competition. Americans David Boudia and Nicholas McCrory took bronze.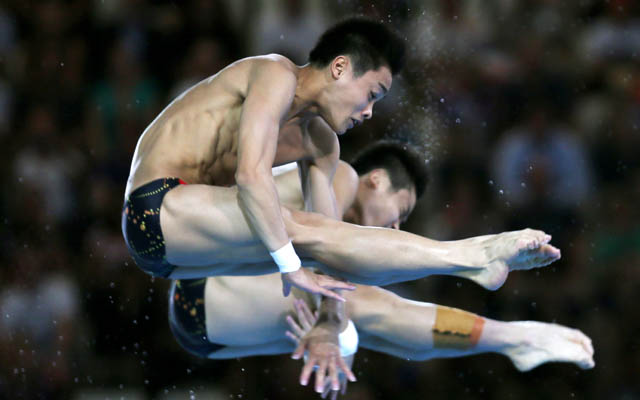 So much for synchro being the Chinese weakpoint...
(Getty Images)
As our Matt Moore wrote in our Eye on Olympics daily viewer's guide, the 10-meter synchronized platform competition might have been the only thing standing between China and a sweep of all eight diving gold medals.
Well, they're getting out the brooms in Beijing: Yuan Cao and Yanquan Zhang controlled the event from start to finish and cruised to gold, winning the competition with a score of 486.78, nearly 18 points ahead of silver medalists Ivan Garcia Navarro and German Sanchez Sanchez.
Americans David Boudia and Nicholas McCrory hung on for the bronze medal, the first of any color for the U.S. men since Mark Lenzi's springboard bronze in 1996. Needing a big sixth and final dive to wrap up their spot on the podium, Boudia and McCrory scored an impressive 95.04 to finish at 463.47.
The pain for the host nation continued as teenage sensation Tom Daley and partner Peter Waterfield botched their fourth dive, scoring only 71.28, and never recovered. They placed fourth with 454.65.
Cao's and Zhang's victory pushes China's lead to 7-3 over the U.S. in the race for the most gold medals, though Boudia's and McCrory's bronze keeps the two nation's tied in the overall medal count.
Jamaican legend goes down on the 4x100 relay final with an apparent leg injury

The Summer Games are coming to L.A. for the third time

Gil Roberts claims that the only crime that he committed was loving too much
Los Angeles preferred 2024, but may have to wait another four years to host Games again

TSA says it reached out to the gymnast and is looking into the incident

The record-setting Jamaican sprinter had one of his nine gold medals stripped