American Ashton Eaton wins decathlon, is the World's Greatest Athlete
An event-by-event update on the progress of American decathlete Ashton Eaton as he chases the title of World's Greatest Athlete.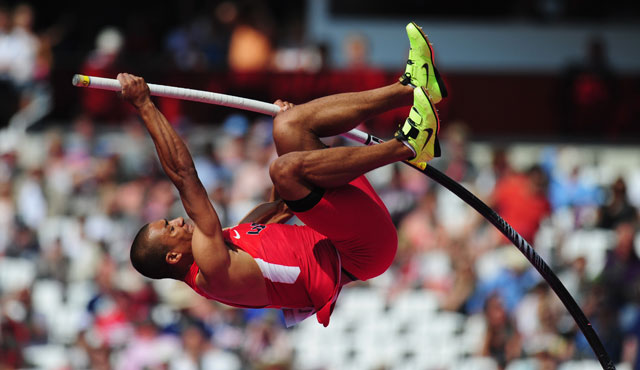 Ashton Eaton pole vaults 5.20 meters, over 17 feet. (Getty Images)
Calling it an impressive accomplishment doesn't even begin to cover the competition that goes on during the decathlon. American track star Ashton Eaton owned the event from the start and put in one of the most comfortably convincing performances of any of the more-than 10,000 athletes at these Games.
The result is not a shock. Eaton was the favorite after he provided the definitive moment of the U.S. Olympic Trials when he broke Czech decathlete Roman Sebrle's world record with 9,039 points, cementing himself as the heavy favorite to win the title of World's Greatest Athlete at the London Games decathlon.
After the first day, not only was Eaton showing himself well again -- he was in first place from the start of the Olympics' most canonical and old-school event. Throughout the two-day event, we tracked his ups and ... well ... ups. He really didn't have many downs, even in events he faired to do well in, he always had the lead. Here's was our event-by-event tracking of the 24-year-old's chase for the Olympic gold medal.
THURSDAY
Event 10: 1,500 meters. And it's official. Eaton is now owns the title of "World's Greatest Athlete." He has won the 2012 decathlon. He didn't break a world record doing it, but after his 1,500-meter time of 4:33.59, Eaton finished with 8,869 points, beating out Trey Hardee, who finished a distant second for silver (8.671). Eaton was sixth in his heat and seventh overall.
Event 9: Javelin. Eaton had the ninth-best throw, but his 61.96-meter chuck of the javelin amounted to a new personal record. Hardee refuses to go away, as he stands in second with 7,997 points after throwing the javelin 66.65 meters, the third-best of the field. Cuba's Leonel Suarez killed the field, tossing his javelin 76.64 meters, more than eight meters further than second place.
As for Eaton, if he can run the final event in 4:30 seconds -- certainly doable -- he'll set a new Olympic record for points in the decathlon. He needs to get it done in 4:08 for a new world record mark. Quite a story cooking up here, one that's building in the background amid all the other big events, like women's soccer and Bolt's 200, which precedes the 1,500 in the decathlon, the final track-and-field event of the day. Score, place: 8,148, first.
Event 8: Pole vault. So much for Trey Hardee's challenge: Eaton soared over 5.20 meters with ease, missing only once (at 5.10) between his opening height of 4.60 and his clearance at 5.2. That was good enough to stand alone in third place in the competition, earning him 972 points. Hardee, meanwhile, failed to go higher than 4.80, scoring 849 points--and leaving Eaton once again more than 220 points ahead.
With Eaton outperforming Hardee in both remaining events at Trials, the gold appears decided. (The good news for Hardee, the reigning world champion: he does appear to have the silver medal clinched.)
Though Eaton cleared 5.30 in the pole vault at Trials, he declined to attempt that height Thursday, putting his world record out of reach--but also ensuring he won't injure himself with gold medal all but a certainty. Score, place: 7,381, first. 
Event 7: Discus. Eaton is still in first overall despite having the worst discus throw in Group B. His third toss landed out of bounds -- decathletes get three chances at hurling the discus -- meaning his first attempt, a 42.53-meter landing, stood. Germany's Rico Freimuth won discus, throwing a personal-best 49.11 meters.
Hardee, unlike Eaton, fared well. He finished second to Freimuth in Group B, tossing the discus 48.26 meters on his second throw. These transgressions get Hardee within less than 100 points of Eaton overall; he currently sits at 6,310. Freimuth's efforts moved him into fifth.
As for Eaton? Score, place: 6,409, first.
Event 6: 110-meter hurdles. The Americans had to wait for the fourth and final heat, where both Eaton and Hardee easily outran the earlier groups. Hardee needed a new personal best of 13:54 seconds to narrowly edge Eaton, who came home at 13:56. For Eaton, this race also marked his fastest time of the season
Check out the photofinish.
After six events, Eaton continues to pace the field. His 1032 points in the event gives him a 217-point lead over Hardee in second place. Score, place: 5,693, first.
WEDNESDAY
Event 5: 400 meters. Eaton entered London as the world's best decathlete in the 400 meters and lived up to that billing Wednesday, finishing in 46.90 -- more than a full second ahead of any other competitor -- to smash open the race for good. His score of 963 points wasn't quite the 973 he scored at Trials, but it was still 57 more than any other athlete's for the event.
Fellow American Trey Hardee took a strong third in the 400, but still sits a far distant 220 points behind Eaton in second, a gap wider than between Hardee and eighth place. At the end of Day 1, Eaton sits a bit off the blistering pace of his world record, but we doubt he cares--after first-place finishes in three of the five events, his lead is such that only a disqualification in the hurdles or a no-score in the discus or javelin can stop him from becoming the world's greatest athlete. Score, place: 4,661, first.
Event 4: High jump. In an exact replay of his Trials performance, Eaton cleared his first five heights without a miss, going over at 2.05 meters (6' 8 3/4") with relative ease. But Eaton didn't have any luck at the next height, missing all three attempts at 2.08 and falling well shy of his personal best of 2.11 from June. But with 850 points (and with only one athlete clearing anything higher), it did nothing to hurt his standing in the competition: closest competitors Hardee and Oleksiy Kasyanov of the Ukraine each went out at 1.99 meters, allowing Eaton to stretch his lead by 56 points. Score, place: 3,698, first.
Event 3: Shot put. The shot put is one of Eaton's weaker events, and he finished 11th with a throw of 14.66 meters. The throw was within shouting distance of his recent personal best of 14.78 meters, though, and scored him 769 points--only 38 behind second-place Hardee and enough to keep a comfortable lead. It also trumped his 14.20 from Trials and put him within striking distance of his score from Eugene. Score, place: 2,848, first.
Event 2: Long jump. Eaton couldn't reproduce his outrageous, world decathlon record leap from Trials of 8.23 meters, but it didn't matter much where the Olympic standings were concerned--his first-place jump of 8.03 meters was nearly .4 meters further than his closest competitor. (It would have placed him seventh in Saturday's long jump finals--and his Trials jump would have won the silver medal.) The 1,068 points he scored put him in firm command of the competition with a 143-point lead over Hardee. Score, place: 2,079, first.
Event 1: 100-meter dash. After setting a world decathlon record time at the Trials, Eaton was the heavy favorite to come out of the decathlon's opening event with a lead, and he didn't disappoint. Though his time of 10.35 was a step behind his 10.21 from Eugene, it was good enough to set an Olympic decathlon record and score a first-place 1,011 points. Score, place: 1,011, first.
The two-time Olympic gold medalist is confronting childhood anxiety and says it's OK to be...

Kukors Smith said that she was 'groomed' from 13 years old by her former coach

The record-breaking Blankers-Koen would have been 100 years old this week
The former U.S. Olympic gymnast is speaking out about the former Michigan State doctor

Get ready for the Olympics of ballroom dancing

Virtue and Moir playfully insist on 'The Ellen DeGeneres Show' that they aren't dating