Andy Murray gives host nation another memorable gold medal at London Olympics
For a nation whose relationship with success in the sport of tennis is best described as uneasy, one of Great Britain's sons had risen up and captured the moment as Andy Murray gave the host country a fourth gold in 24 hours by defeating Roger Federer 6-2, 6-1, 6-3.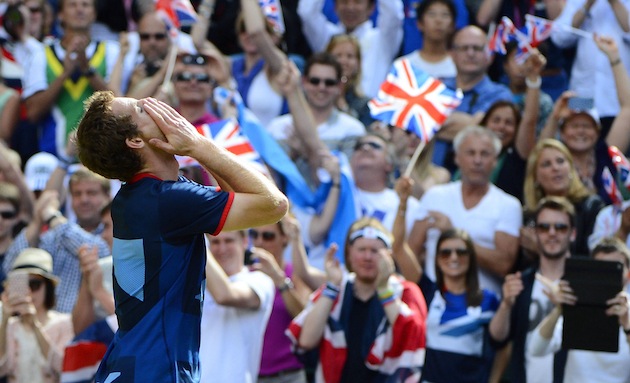 Andy Murray collapsed onto his knees on the world's most famous manicured lawn, the site of a personal failure just weeks before, awash in adoration. Finally, for a nation whose relationship with success in the sport of tennis is best described as uneasy, one of Great Britain's sons had risen up and captured the moment, giving the host country a fourth gold in 24 hours by defeating Roger Federer 6-2, 6-1, 6-3.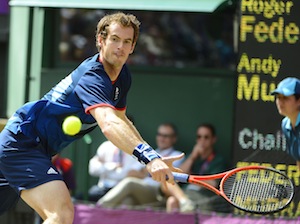 After disappointment at Wimbledon a month earlier, Andy Murray was golden on Centre Court on Sunday. (US Presswire)
"The atmosphere was unbelievable," Murray said on NBC. "They helped me get a few extra miles per hour on those last serves, that's for sure. The adrenaline was pumping, I went for some big serves and got them. The whole week they've been amazing and hopefully they stick around for the mixed (doubles match)."
In a country where weather rules events more than most, the elements cooperated -- even conspired -- to give Murray what he needed. Raining earlier in the day, the sun forced through the clouds and forced open the roof over Centre Court. When Federer took home his seventh Wimbledon title, the roof had been covered, giving him a decided advantage as he won 65 of the 117 points played indoors. On Sunday, the sunglasses were out and the worn out grass shined a golden brown with strips of green in between.
After a back-and-forth to start the match, Murray broke Federer to go up 4-2 in the first set and then there was little either could do to stop the momentum.
Federer had six break points in the third game of the second set yet he still couldn't get it done. He came at Murray with his dangerous forehand but still couldn't get over the hill. He sliced the backhand to the baseline but Murray ran it down time after time and returned it. The World's No. 1 player wound up dropping nine straight games spanning the first two sets.
Serving for the second set up 5-1, Federer game him a run. Still Murray fought back and took a two set advantage. Once again Federer made a run in the third set and yet was broken to find himself down 3-2 in the deciding set. The crowd and the country could feel it at this point, that this was actually happening.
Related links
More on Olympics
To be considered the greatest, one has to have the resume that stands above not only your contemporaries but shines among the muddled masses of history. Roger Federer, owner of more Grand Slam titles than anyone in the modern era, still has one. Yet while a silver is his first Olympic singles medal it is not a gold one. It's hard to consider such a prestigious accomplishment a blemish but for the ever driven Swiss man who hurriedly walked off the court on Sunday, it certainly felt like one in the wake of a straight sets loss.
"I was expecting it to be an incredibly tough match, especially in the big matches he's played so well," Murray said. "Once I got through that first set, and held at two-love in the second, I felt much better. In no way did I expect a score line like that in the final."
The Brits waited 76 years for a homegrown men's champion at the All England Club and all it took was hosting the Olympics to get them one. The expectations on Murray were huge a month ago and grew larger as he got deeper into the tournament this week. Federer picked the pockets of the Brits earlier this month by beating him at Wimbledon earlier this month. Now Murray returned the favor and won the country's first gold medal in tennis since 1908.
It wasn't Wimbledon but it was at Wimbledon -- and this was for Queen and country.
In a sport where Grand Slams mean everything, this meant more for Murray. A perfect confluence of factors gave him a shot at a gold medal, at home, at the most prestigious court in the game.
"I've won an Olympic gold medal but I've never won a slam," he said. "I know how this feels and it feels great. I've lost some tough matches in slam finals and that hurt me a lot. It's hard to compare, I think tennis at the Olympics is getting bigger each time it's played because of the top players. I know for me, this is the biggest win of my life that's for sure."
There Andy Murray was, face in his hands with cheers from Aberdeen to Plymouth enveloping him on Centre Court.
Nassar continues to have to listen to victim impact statements as he awaits sentencing

The former USA Gymnastics doctor issued a six-page complaint during his sentencing hearing

Mancuso went out in style on her final run, rocking a Wonder Woman outfit and cape
Unsurprisingly, an investigation has been launched into why so many Russian athletes got s...

Rippon says 'Mike Pence doesn't stand for anything that I really believe in'

Couric will be joining Mike Tirico at Pyeongchang Olympic Stadium for the Feb. 9 Opening C...