Basketball: Team USA burns down nets, records, Olympic arena in win over Nigeria
Team USA takes Nigeria to a world of pain in a 156-73 win. No, that is not a typo.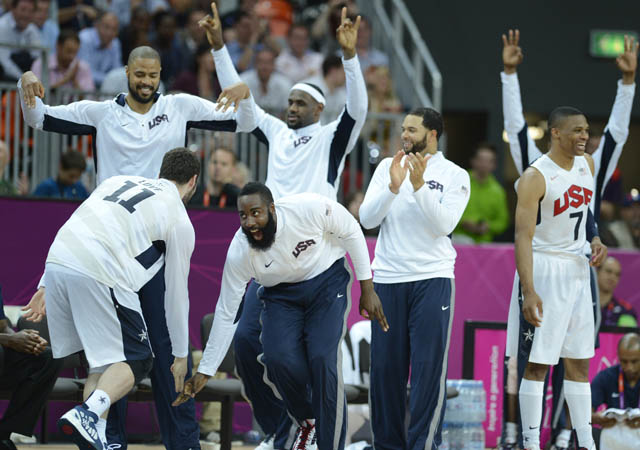 There was a lot of this going around Thursday.
(Getty Images)
Consider the point made, Team USA.
The United States beat Nigeria on Thursday. That's a fact. That's a simple way to say it. But in no way does it begin to describe what happened in Team USA's 156-73 win. It was somehow worse than the score indicated. 
A quick rundown of what happened. 
The United States broke the record for most points in an Olympic contest, breaking Brazil's record of 138 by a healthy margin.
Carmelo Anthony set the scoring record for most points in an Olympic contest with 37. He did it in just 14 minutes. 
They shot 81 percent from the field from two-point range.
They shot 63 percent from the arc on 29 of 46 from long range, an unbelievable number. 
They had 41 assists on 59 field goals. 
LeBron James had six points and the team won by 83.
They gave up 73 points to Nigeria, and won by 83. 
They gave up 73 points to Nigeria, and scored 88 in the 1st and 4th quarters combined alone. 
They couldn't miss. At all.
It needs to be noted, here and now, that this is a better Nigerian team than it appeared today. If it wasn't better than any team the Dream Team faced in 1992, it would be very competitive. It featured two NBA players in Al-Farouq Aminu and Ike Diogu, and a fringe NBA player in Alade Aminu.
And Team USA won by 83.
Doc Rivers on NBC's telecast said it may have been the best shooting performance in history. It certainly felt like it watching it. The phrase "they can't miss" is used often. Team USA for long stretches could not miss. Anthony was taking pull-up jumpers from well beyond the arc and not even touching rim on makes. Russell Westbrook was hot from the perimeter. Kevin Love.  Kobe Bryant, with 16 points in 10:43 of play. The list goes on and on. Everyone was in on the act.
After a sluggish performance against Tunisia, it was a statement. To their opponents in the Olympic games, to the Dream Team, to the world, this team made a statement. We're the best in the world, and you need to take notice.
Here's how to watch all of the halfpipe and slopestyle action as Olympic qualifying resume...

The two-time gold medalist's road to making his fourth Olympics just got a little tougher

The South African sprinter and Paralympic champion is serving time for the murder of his g...
The Olympic skier says she's received hurtful comments since her remarks about competing for...

More than 400 people reportedly held emergency defense drills in advance of the Winter Gam...

The Olympic gold medalist says she also won't accept an invite the White House