Basketball: The Good, the Bad, and the Ugly in Team USA's win over Australia
The good, the bad, and the ugly from Team USA's 119-86 win over Australia.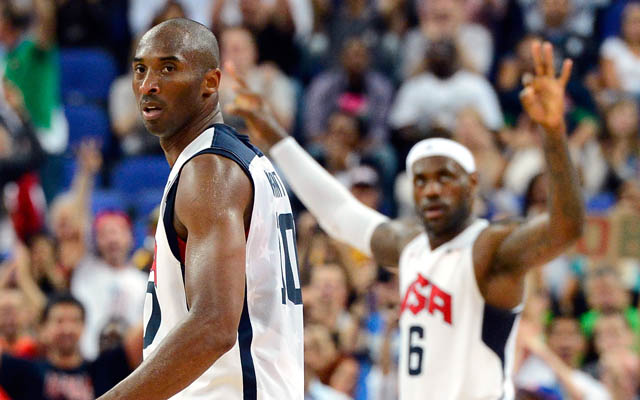 "Don't call it a comeback."
(Getty Images)
The good, the bad, and the ugly from Team USA's 119-86 win over Australia. 
The Good: Kobe Bryant and LeBron James. Bryant shook off the cobwebs that have had him wrapped up throughout the entirety of this tournament, and finally lit up the field. There had been questions if Bryant's legs were going again, but he burst those to flame with an incendiary performance from beyond the arc. 
Meanwhile, ho-hum, LeBron James dropped a triple-double and continuously made every possible play you can imagine, scoring inside, no-looking transition passes and snagging tough rebounds. It was just the latest in a series of unbelievable performances. Bryant's one-on-one play was a lightshow, but James' ability to involve every member of the team puts them in another gear. 
The tactical adjustments were light in this game, and it was the talent that put Team USA over. As usual. 
The Bad: The defense. Team USA allowed an uncharacteristic 47 percent shooting inside and 41 percent from the arc to Australia, and it was the reason the Aussies were able to close the lead to three in the third quarter. This team isn't naturally great defensively, not with their primary unit or even with their heavy-minute reserves. So when the focus isn't there, and the pace increases, they get lost. They gambled for too many turnovers and while that differential eventually helped lead to the blowout, it also kept Australia close for as long as it was. 
Team USA's going to ballhawk and that's a plus. But if they're not centered in, they could run up against a team that can actually match up with them and score. You know, like semifinal opponent Argentina. 
The ugly: The offensive execution. The end spurt made it seem better than it was. In reality, Team USA's halfcourt offense was a mess on Wednesday and it nearly cost them. Australia slogged the game down and hustled back in transition. The result was a game where the U.S. needed execution and couldn't find it. 
Australia switched on pick and rolls, freezing point guards, attacked the ball on Chris Paul and Kevin Durant, and rotated consistently to cover off-ball movement. Team USA can get out and run to score enough where it may not matter. They can likely do that enough to win the gold medal. But if they want to make a statement, they have to have ball movement and consistent off-ball action to create open looks. They're good enough to win the hard way. But there's no reason to make it harder for themselves than it needs to be. 
Jamaican legend goes down on the 4x100 relay final with an apparent leg injury

The Summer Games are coming to L.A. for the third time

Gil Roberts claims that the only crime that he committed was loving too much
Los Angeles preferred 2024, but may have to wait another four years to host Games again

TSA says it reached out to the gymnast and is looking into the incident

The record-setting Jamaican sprinter had one of his nine gold medals stripped