Basketball: While Team USA dominates, rest of the field sputters
The rest of Team USA's international competition sputters while the Americans dominate.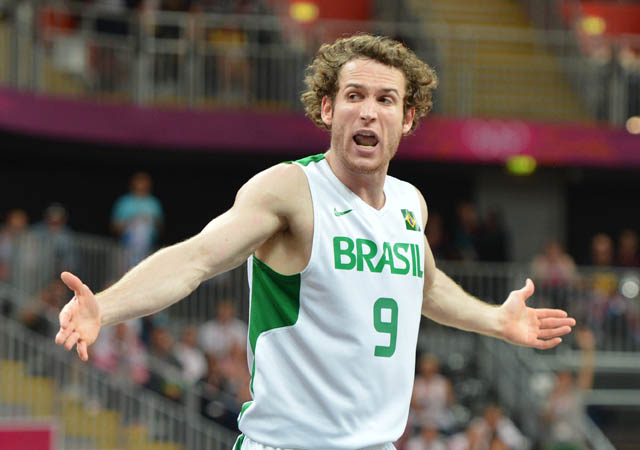 Huertas was left stunned on Thursday.
(Getty Images)
There was a prevailing backlash, as to be expected, after the U.S. torched Nigeria, that they can't take much from this game. Despite Nigeria having three players to have spent time in the NBA, they weren't considered in the same frame as the rest of Team USA's competition, ranking just above Tunisia, who gave the U.S. a bit of a run in the first quarter of their game. 
In short, the U.S. will have to go through tougher teams to win the gold. 
One problem: none of those teams are looking all that impressive. 
Team USA already handled France with ease. Argentina fell to France on Tuesday, then struggled for a quarter with Tunisia, going down by 14 at one point, before blowing them out. And the other contenders, Spain, Brazil, and Russia? Well, here's what happened on Thursday in their games.
Russia defeats Brazil
in what has to be the craziest game of the day, which is saying something, Brazil and Russia traded leads before Brazil broke out a significant lead in the third quarter, reaching 11 at one point. But Russia powered their way back into the lead behind Alexei Shved's dynamic scoring. But Brazil would answer and answer again. Marcelo Huertas split the lane for a layup to give Brazil the lead with six seconds left. 
And then, one of those plays. 
Russia inbounded to Fitaliy Fridzon in the corner, who rose, avoided a lunging Leandro Barbosa who appeared to foul Fridzon, and sank the three to put them up with four seconds left. A desperation shot from Brazil fell short, and Russia maintains its lead in Group B. Brazil, who had had shakey performaces in its first two games, falls and is no longer looking like the dark horse. Instead, Russia appears in control of the surprise run.
Spain defeats Great Britain
Spain was considered the biggest threat to the United States. They nearly lost to the host nation Great Britain in an unbelievable fashion, only succeeding when Great Britain's execution failed worse than their own. Spain had a comfortable lead in the third before falling apart in the fouth, and Great Britain, with really only Luol Deng and Freeland to carry them, started raining three-pointer after three-pointer, over and over again, to cut the lead. 
But for some reason, Great Britain head coach elected to foul with 25 seconds remaining down just three. Worse still, they elected to foul 90 percent foul shooter Jose Calderon. Worse still, after nailing another three, again, they fouled Calderon. They hit yet anothee three to bring it to a one-point lead with five seconds left. The Spanish inbounded to Calderon... but Deng, with four fouls, couldn't afford to foul him, and his teammate was unable to close enough to foul. 
So they foul him three times when they shouldn't, and don't foul him the one time they need to. 
Spain got away by the hair on their chinny-chin-chins, as the fairytale goes. 
So there you have the four strongest challenges to Team USA, Spain, Argentina, Russia, and Brazil, all having shown signfiicant weaknesses in group play. It's just group play, but when you compare that with what the U.S. has shown, the talk of fear for this Team USA squad may have been overblown. The only question may be their ability to maintain focus after everything went their way against Nigeria. 
The victim demanded that Nassar apologize to her face before granting him forgiveness

Three members of the Board of Directors executive leadership tendered their resignations on...

Emma Ann Miller, the 95th person to speak against Nassar in court, made the claims Monday
Kenworthy is set for his second Winter Olympics and his first after coming out as gay

Not everybody in South Korea is on board with the decision to unite with North Korea for the...

The Ralph Lauren jacket can be controlled by the athlete's smartphone, so that's something