Bode Miller won't race in final event after 'janking' knee in giant slalom
Bode Miller's Olympic career might be over. His time in Sochi definitely is. Miller won't ski in the slalom after injuring his knee on Wednesday.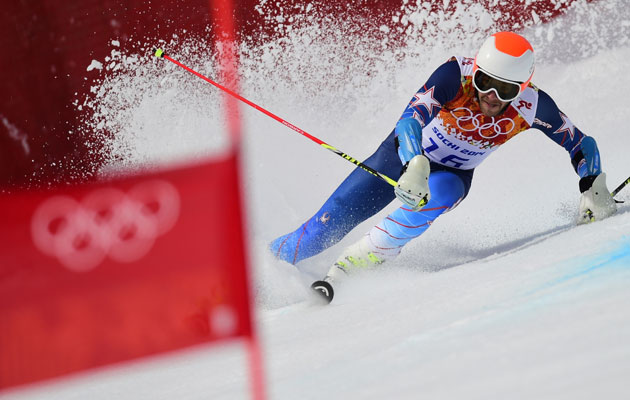 Bode Miller's Olympics are finished.
The USA's most decorated male Olympic skier of all time, Miller competed in the giant slalom on Wednesday and finished a somewhat disappointing 20th place, 2:53 seconds behind fellow American Ted Ligety for gold. Part of the problem was that he injured his knee on the first of two runs.
It wasn't serious enough to keep him from making the second run, but it will be enough to keep him from skiing in the final alpine event in Sochi, the slalom. However the injury will not cost him the rest of the World Cup season, at least.
Miller used some specific medical terminology to describe the issue.
@JoeBattaglia75 @MillerBode Said he tweaked it in combined slalom, too. To be precise, said, he ``Janked'' it.

— Tim Layden (@SITimLayden) February 19, 2014
With his Sochi Olympics over -- and very possibly his Olympic career -- it means Miller leaves with one bronze medal, which he earned in the super-G when he tied for third place. He was the favorite in the downhill but had a couple of hiccups and finished in eighth place. He finished sixth in the super combined, the only event he has won Olympic gold in (back in 2010). When he made the podium in the super-G he became the oldest man to medal in Olympic alpine skiing history while bringing his career medal total to six.
Certainly it was an emotional trip to Sochi for Miller, who missed the entire 2013 season after knee surgery. He was also skiing after the loss of his brother Chelone in April. That was the background of his emotional and somewhat controversial (not from Miller's end) interview with NBC.
In Wednesday's giant slalom, Miller skied with a special message for his daughter, who was celebrating her birthday.
If this is the end of Miller's Olympic career, that's quite a picture to close with, especially after all the years of being seen as the bad boy of skiing. Without a doubt it has been a memorable Olympic run over the years for Miller.
The Olympic gold medalist says she also won't accept an invite the White House

The children of Japan will decide on the 2020 Olympics mascots but all of Twitter seems to...

Nassar, accused of assaulting U.S. gymnasts, is still awaiting sentencing for molestation
Nikki Haley, U.S. ambassador to the United Nations, says concerns with North Korea remain a...

Maroney detailed the extent of the sexual abuse she endured her in a victim-impact stateme...

The International Olympic Committee ruled Tuesday that Russia would be barred from the 2018...