Canada takes women's moguls gold, US's Kearney wins bronze
A brief bobble in the first half of her final moguls run cost the U.S.'s Hannah Kearney a second gold medal, with Canada's Justine Dufour-Lapointe the victor.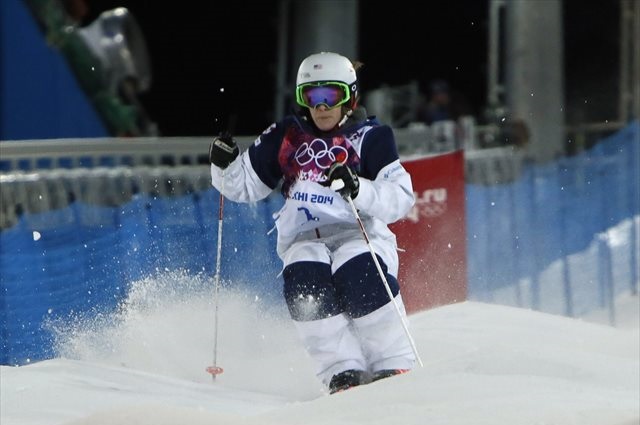 Four years ago, American Hannah Kearney broke Canadian hearts when she won the Vancouver women's moguls gold over the host nation's Jennifer Heil. But in Sochi Saturday, a pair of Canadian sisters returned the favor.
Justine Dufour-Lapointe won Canada's first gold medal of the games with a score of 22.44 in her final run of the moguls competition, beating out Canadian silver medalist Chloe Dufour-Lapointe -- her older sister by three years -- and Kearney, who settled for the bronze.
The New Hampshire-native Kearney came to Sochi as the heavy favorite, having dominated recent moguls World Cup competition, and looked the part in posting the highest score in the second of three rounds of Saturday night's finals. But Justine Dufour-Lapointe's third round score was the highest of the competition, putting the pressure on Kearney -- the final skier of the event.
Kearney started well but suffered an uncharacteristic bobble and her skis separated -- a breach of proper moguls technique -- following the landing of her first of two jumps.
That error opened the door just wide enough for the Dufour-Lapointe sisters to remain atop the final leaderboard.
American Eliza Outtrim advanced to the six-woman final round and placed sixth. The U.S.'s Heather McPhie was eliminated after the first round, just missing the 12-woman cut in 13th.
Mancuso went out in style on her final run, rocking a Wonder Woman outfit and cape

Unsurprisingly, an investigation has been launched into why so many Russian athletes got s...

The former USA Gymnastics doctor issued a six-page complaint during his sentencing hearing
Rippon says 'Mike Pence doesn't stand for anything that I really believe in'

Couric will be joining Mike Tirico at Pyeongchang Olympic Stadium for the Feb. 9 Opening C...

White expects to win in South Korea and for the president to tweet about it