Coach K denies Team USA tried to embarrass Nigeria
Team USA head coach Mike Krzyzewski denies that Team USA tried to run up the score vs. Nigeria in 156-73 win.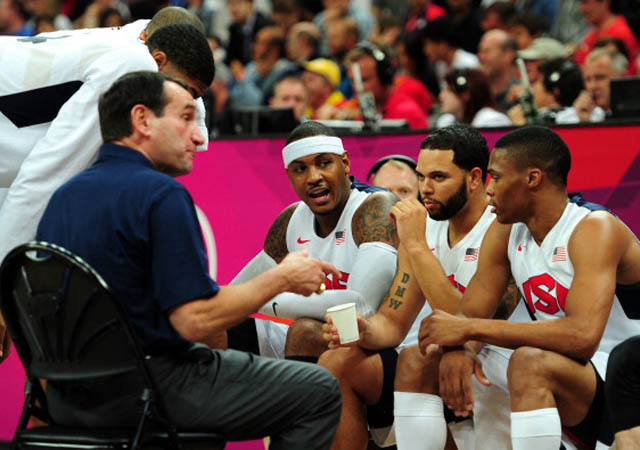 "Win, but not too much, guys. We don't want to get in trouble."
(Getty Images)
Sometimes, these things just happen. As is going to be the case in any sporting contest where one team defeats another by an excessive margin of victory, Team USA faced questions yesterday about whether they were trying to run it up in their 156-73 win Thursday.
Because, really, when you look at it, Coach Mike Krzyzewski has a lot to prove to people. Carmelo Anthony really needs to make a statement in a group-play Olympics game. Oh, no, wait. they dont at all. From Yahoo Sports: 
Nevertheless, a question in the postgame news conference about the U.S. running up the score stiffened Krzyzewski, inspiring him to respond with marked defiance.

"We didn't play LeBron [James] and Kobe [Bryant] in the second half, and with Carmelo shooting like that, we benched him," Krzyzewski said. "We didn't take any fast breaks in the fourth quarter, and we played all zone. You have to take a shot every 24 seconds, and the shots we took happened to be hit.

"I take offense to this question because there's no way in the world that our program in the United States sets out to humiliate anyone."
via Team USA routs Nigeria by 83 points; Coach K irked at accusation of running up the score - Yahoo! Sports.
Coach K's right there. He didn't play his best players, and they tried to run clock. The shots fell. To have done anything else would not have been in the spirit of the game. Look at badminton, who had eight players disqualified from competition for attempting to throw a match. This is a diferent context, but it would be the same principle, intentionally losing. 
Team USA brought their best, and it was the best. You can't punish them for that or question their ethics. They did their best to contain the score while still scoring. You can argue they were taking too many threes to run it up, but Nigeria was playing off. If you're up that much, why would you risk injury by drving instead of throwing up a three?
I'm not indifferent to questions of sportsmanship, not a believer in the "if they don't want to get beat by that much, they should stop their opponent" line of thinking. There are times in pee-wee football and little league baseball where pride reservation is more valuable than that of the victory. 
But this is the Olympics. The idea is to be the best you can be, to show the world for your nation how great you can be. Team USA did that and still managed to try and peel back. They just hit shots. It's a make-or-miss sport. They made 'em. Anything else is inventing fault in the face of greatness. 
The Olympic champion is one of many women speaking up with the #metoo movement

The famous Braves groundsman goes fast, and Team USA took notice

The Games are to be hosted in South Korea, and France has already expressed concern over s...
If the South Korean standoff with Pyongyang continues, France has said they will stay home...

The news comes shortly after a deal was struck by Los Angeles and the IOC

Jamaican legend goes down on the 4x100 relay final with an apparent leg injury