Day 1 of Olympic women's soccer: what else you need to know
There were five women's Olympics soccer matches across Great Britain Wednesday that didn't involve the U.S. Here's what you need to know about them.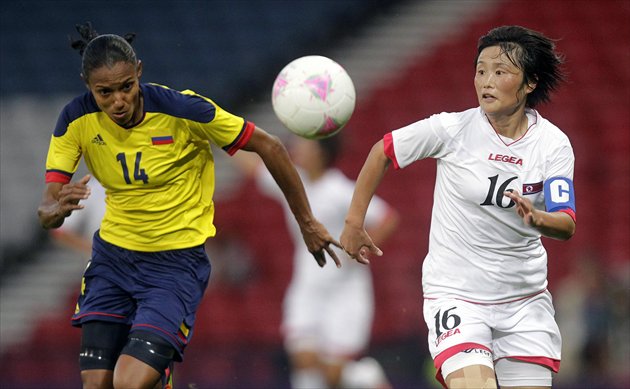 Kim Song Hui and North Korea could give the U.S. a test after their comfortable 2-0 win over Colombia. (Getty Images)
You've probably heard by now that the U.S. downed France 4-2 in what was both the biggest and best match from the first day of the Olympic women's soccer tournament. But there were five other matches spread across Great Britain Wednesday, with all 12 of the tournament's teams in action. Here's the quick-and-dirty takeaway from each of those five:
Japan 2, Canada 1: The shock 2011 World Cup champions are out to prove that title was no fluke, and they looked the part of contenders in taking a 2-0 first-half lead against the Canadians and eventually running out the clock on a one-goal victory. Though the second goal came with a bow and ribbon attached after Canadian goalkeeper Erin McLeod flailed at an incoming cross, the first was a well-worked passing move capped by a slick, tight-angled finish from Nahomi Kawasumi. 
After Melissa Tancredi's second-half goal for Canada, the final result wound up more solid than spectacular. But that's hardly a sin in major international tournaments, and by largely controlling the match from its opening minutes -- against a team that pushed the U.S. into the final minutes only a few weeks ago -- Japan served notice they won't be any easier an out than they were last summer.
Great Britain 1, New Zealand 0: Though the British got the result they needed and largely dominated the game after a highly nervy first 15 minutes, the tournament hosts can't feel thrilled after being held scoreless through 63 minutes--and needing a precision free kick from Stephanie Houghton to finally break through. To earn the medal they're expecting, the Brits will need to show substantially more offensive punch, and they may not get the boost from a vocal home crowd they'd hoped for; despite their being the first event of the entire Games, Manchester's Old Trafford stadium was largely empty.
Brazil 5, Cameroon 0: No African nation other than Nigeria has ever qualified for an Olympic women's soccer tournament, and Cameroon's newcomer status was evident early on as it took them only 10 minutes to yield a pair of simpler-than-simple goals off of Brazilian set-pieces. From there the result was never in any doubt, though to Cameroon's credit -- and Brazil's frustration -- it took another 50 minutes before a Marta-earned and Marta-converted penalty opened the floodgates. Given how disinterested Brazil appeared after the two early goals, it's hard to say how much to read or not read into the margin-of-victory. But no 5-0 win has ever been reason to downgrade a team's chances.
North Korea 2, Colombia 0: In the other match from Team USA's Group G -- and a rematch from the teams' 0-0 draw at the 2011 Women's World Cup -- the North Koreans looked much improved, lively going forward and committed to defense. If they were as bothered by the pregame South Korean scoreboard flag snafu as their coach seemed to be in his postgame comments, it never showed.
Then again, it was easy to look good against the hapless Colombians, who never managed a shot on goal and appeared to spend most of the match trying to one-up each other for the worst possible defensive clearance. (The winner: the 39th-minute attempt that ricocheted off Kim Song Hui and wound up in the Colombian net for North Korea's first goal.) The Koreans also faced the U.S. in last year's World Cup and may be able to push them harder than they did in that 2-0 loss. But all in all, it appears that in beating France, the U.S. has already done the heavy lifting in Group G.
Sweden 4, South Africa 1: Like continent-mates Cameroon, South Africa was making its Olympic debut, and like Cameroon, you could tell: led by the dangerous Lotta Schelin, the Swedes scored three goals and hit the woodwork twice in the first 21 minutes. Some of that is Sweden -- the World Cup bronze medalists and a medal threat -- coming out firing on all cylinders, and some of that was a South African defense that a deer frozen in headlights told us he thought looked "tentative." As with fellow easy victors Brazil, it's too early to say Sweden are on their way to the podium, but you also can't discount the force with which they put their boot to their overmatched opponents' throat.
Three women strive to be the best African representation 'the Winter Olympics have ever wi...

Team USA will be decked out in Spyder in PyeongChang

Dr. Larry Nassar is currently facing 22 state charges in Michigan
Putin says the United States is trying to 'discredit his government' with recent allegations...

The new USA and Canda hockey jerseys for the 2018 Winter Olympics leave plenty to be desir...

The torch was lit in ancient Olympia on Tuesday and has started its long journey