Dominant Olympic run by Serena Williams ends in first singles gold
American Serena Williams was locked in on winning a tournament at Wimbledon for the second time in a month and destroyed Maria Sharapova 6-0, 6-1 in the final to capture gold for the first time in singles at the Olympics.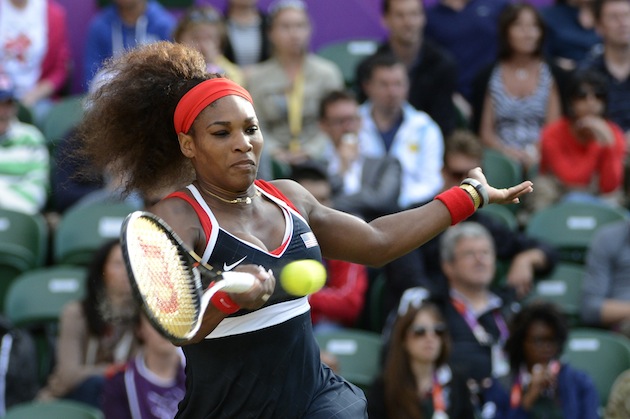 There was a point early in the women's singles gold medal match when announcer Mary Carillo said it was nearly impossible for Serena Williams not to win Saturday.
The very same could have been said during Williams' first match, as the American was locked in on winning this tournament. And on Saturday, she destroyed Maria Sharapova 6-0, 6-1 in the final to capture Olympic gold for the first time in singles.
"I didn't expect this," a clearly emotional Williams said afterward. "I have a gold medal in singles -- I never thought [I'd do] this.
Related links
More on Olympics
"You play for yourself and it's awesome, winning Wimbledon is I think the best feeling in the world. Now to win the gold medal, I didn't think it could get better than winning Wimbledon but you see how happy I am. I just don't know what to do."
The Olympics are an athletic competition that rewards peak performance and it was clear from the get-go that Williams was locked in and focused. Against world No. 1 Victoria Azarenka and Sharapova, Williams dropped just four games total in the final two matches. She lost just 17 games during the entire tournament. Dominance may be too tame of an adjective to describe the American's run in London the past month.
"I don't feel anything invincible," she said. "I just feel good about my game. I practiced so hard and it was time."
Williams becomes just the second woman to complete a career "golden Grand Slam," joining Steffi Graf, by winning all four majors and a gold medal. She picked up her 14th major title at Wimbledon last month on the same court she captured gold.
After dealing with a host of injuries and other issues the past few years, the 30-year-old appears to be playing her best tennis in some time. Between the Olympics, Wimbledon and other stops on the WTA Tour, Williams has won 34 of the last 35 matches.
Sharapova, a first time Olympian, captures a silver in what is a likely bittersweet moment. Although she receives her first medal, it came at the expense of being close to embarrassed on centre court. Williams hasn't lost to Sharapova since 2004 and given what happened, that stat might not be changing any time soon.
"I don't think it's her, I just think I played well," Williams said. "She fought so hard and I love that about her."
A career full of highs somehow paled in comparison to what Williams accomplished Saturday at the All England Club, as she delivered a golden masterpiece that Sharapova could only help but watch and admire.
Find out everything you need to know about watching the Winter Olympics

CBS Sports asks the silver-medal bobsledder about her medals, softball and South Korean cu...

Canada beats Czech Republic for bronze, while Germany and Olympic Athletes from Russia are...
The Canadian men's hockey team will not leave Pyeongchang empty-handed

Ledecka, from the Czech Republic, wins a gold on her snowboard after stunning the world on...

Team Shuster completed an absolutely masterful run with a win on Saturday