Dutch delight: Sven Kramer leads sweep of speed skating 5000m
The Netherlands surged to the top of the first-day medal table by sweeping the men's 5000 meter podium.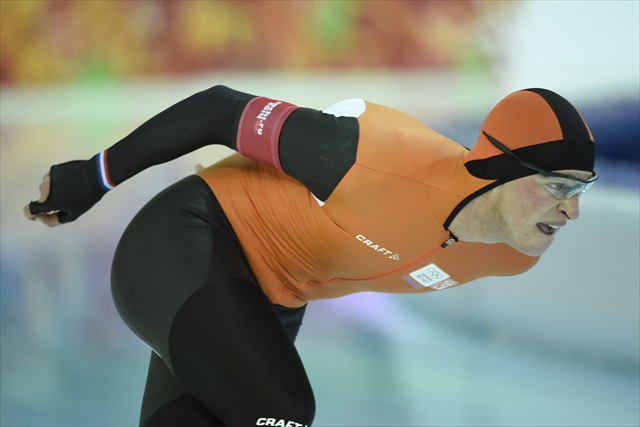 No country in the world loves long track speed skating the way the Netherlands loves long track speed skating -- meaning no country's Sochi Games is off to a more joyous start.
Led by 2010 Vancouver gold medalist Sven Kramer, the Dutch swept the podium in Saturday's 5,000 meters, Kramer defending his gold medal in an Olympic record 6 minutes, 10.76 seconds. Jan Blokhuijsen took silver in 6:15.71, and Jorrit Bergsma won bronze in 6:16.66.
17-year-old Emery Lehman was the top American finisher, placing 16th in his Olympic debut. Jonathan Kuck finished 19th and Patrick Meek 20th. All three American entrants, interestingly, are from Illinois.
Kramer's victory pulled the Netherlands within a single gold medal of the U.S.'s record 29 speed skating victories, and helped redeem Kramer from his infamous 2010 gaffe in which his coach directed him into the wrong lane in the 10,000 meters -- resulting in a disqualification in a race he otherwise would have won easily.
King Willem-Alexander of the Netherlands was in attendance, and was blown away by Kramer's dominating performance.
"What can you say? We could never have hoped for such a great result," the king said, per the Associated Press. "That Sven was able to deliver despite such pressure, it leaves me speechless. What can you say, such a great Olympic record."
Three members of the Board of Directors executive leadership tendered their resignations on...

Emma Ann Miller, the 95th person to speak against Nassar in court, made the claims Monday

Kenworthy is set for his second Winter Olympics and his first after coming out as gay
Not everybody in South Korea is on board with the decision to unite with North Korea for the...

The Ralph Lauren jacket can be controlled by the athlete's smartphone, so that's something

Johannson, 53, had been tasked with assembling the United States' men's ice hockey team