Galen Rupp wins silver in 10,000 meters; Mo Farah takes gold
A long drought for American distance running is over as Galen Rupp wins silver in the 10,000 meters. Great Britain's Mo Farah took silver.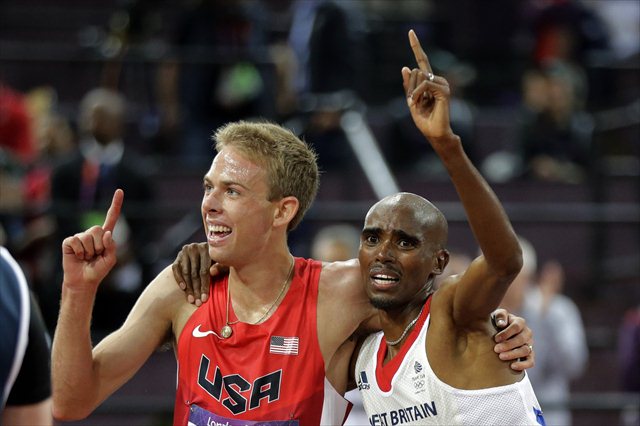 Galen Rupp celebrates the U.S.'s first distance medal since 1968 with champion and training partner Mo Farah. (AP)
Great Britain's Mo Farah and the U.S.'s Galen Rupp train together, side-by-side, in Eugene, Ore. for coach Alberto Salazar. We're guessing that Salazar guy just might know what he's doing.
Farah and Rupp out-kicked the field on a thrilling final lap to finish first and second in the Olympic 10,000 meters Saturday, Rupp's silver the first American medal in the event since Billy Mills' gold in 1964. It's also the first U.S. Olympic medal of any color in any distance event on the track since 1968. 
"It's unreal. It's been a dream come true," Rupp told NBC. "I couldn't have asked for much more."
After some 9,500 meters featuring a measured pace and plenty of close-quarters running that seemed to irritate Farah, he, Rupp, and Ethiopian Tariku Bekele finally broke away from the pack. Farah took the lead with Bekele second, and Rupp third.
Rupp was able to chase down Bekele in the final 100 meters to grab silver, but couldn't catch Farah, the reigning world champion and pre-race favorite.
London's Olympic Stadium -- already primed by gold medal performances from host nation heptathlete Jessia Ennis and long jumper Greg Rutherford -- was electric from the gun. But it positively exploded as Farah crossed the finish line, Britain's first-ever Olympic champion in the 10,000.
Many have already called it the signature moment for the host nation at the London Games.
"It was the best moment of my life," Farah said. "The crowd gave me a big boost, I don't think I would have finished like that without them.
"My training partner coming in second as well, it's even more unbelievable. It's never going to get better than this moment."
Farah won with a time of 27:30.42, while Rupp finished a little less than a half-second behind in 27:30.90. Bekele won bronze in 27:31.43.
Americans Dathan Ritzenhein and Matthew Tegankamp took 13th and 19th, respectively, in 27:45.89 and 28:18.26.
One of Great Britain's biggest modern-day athletic heroes and a national celebrity, Farah raised some eyebrows when he left England to train with Salazar in the U.S., only returning some two days before Saturday's race in order to avoid the rabid British press. But it's hard to imagine there will be any criticism of his decision after his and Rupp's performance.
"We've done it so many times, just pushing each other," Rupp said of the similarity between Saturday's final lap and his and Farah's training sessions. "I just put my head down and dug down deep."  
An Oregon native who has spoken repeatedly about the inspiration he draws from Eugene running legend Steve Prefontaine, Rupp could be in line to become the biggest American distance running star of his generation. He will meet up with Farah again in the 5,000 meters, Rupp's best event--and one that could send him home from London with his country's first two distance track medals since Jim Ryun's silver in the 1,500 meters at the 1968 Mexico City Games.
Three women strive to be the best African representation 'the Winter Olympics have ever wi...

Team USA will be decked out in Spyder in PyeongChang

Dr. Larry Nassar is currently facing 22 state charges in Michigan
Putin says the United States is trying to 'discredit his government' with recent allegations...

The new USA and Canda hockey jerseys for the 2018 Winter Olympics leave plenty to be desir...

The torch was lit in ancient Olympia on Tuesday and has started its long journey