Got the cash? You could own a piece of Olympic history
London 2012 organizers have launched an eBay-style auction website where fans can bid on Olympic memorabilia.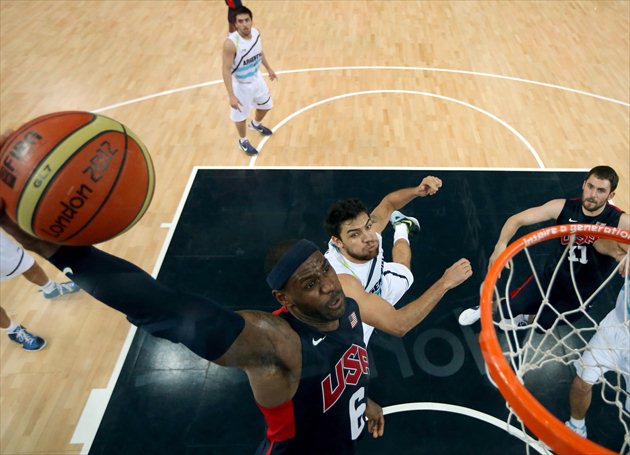 The same net Lebron will dunk through in Sunday's Olympic final is up for auction. (AP)
Are you a Team USA basketball fan? Like a big, big USA basketball fan? Do you have a few thousand dollars sitting around just burning a hole in your bank account? Do you have a spot on your wall where a framed basketball net would just look perfect?
Then are you in some freaking luck, my friend, because the London Olympics organizers have come up with a novel way of helping cover the 2 billion-pound price tag for the Games: an eBay-style auction site at which you can bid on a wide variety of Olympic memorabilia.
Among the items available are a 7-foot tall sculpture of Olympic mascot Wenlock as Sherlock Holmes, the boxing gloves used by the U.S. boxer Claressa Shields in her semifinal victory on her way to gold, one of the farmer's hand-sickles from the farm-related segment of the opening ceremony ... and, yes, one of the two nets to be used in Sunday's U.S. vs. Spain gold medal men's basketball final.
None of those items will come cheaply, of course--bidding for the hoops net has already topped $3,000 American, and even the sickle will run well over $200 after it's shipped across the pond.
Nonetheless, it's not often that memorabilia that would seem more at home in a sports museum or an athlete's trophy case becomes so readily available to the public. 
Lindsey Vonn, Red Gerard and the USA men's hockey team all have big events on Tuesday

Team USA kicked off the elimination stage with a big win over Slovakia

Here's everything you'll need to know about this year's biathlon, including rules and favo...
How to follow the action with curling, quietly one of the most fun parts of the Winter Oly...

Find out everything you need to know about watching the Winter Olympics

The United States got a big win against the Slovaks and will face the Czech Republic on Tu...