Handing out awards from the 2012 U.S. Olympic Trials
After 21 combined days of competition, the major U.S. Olympic Trials are over, and Team USA's representatives in track and field, swimming, and gymnastics have all been chosen. So it's time to hand out some awards for those 21 days' biggest -- or most notable -- accomplishments.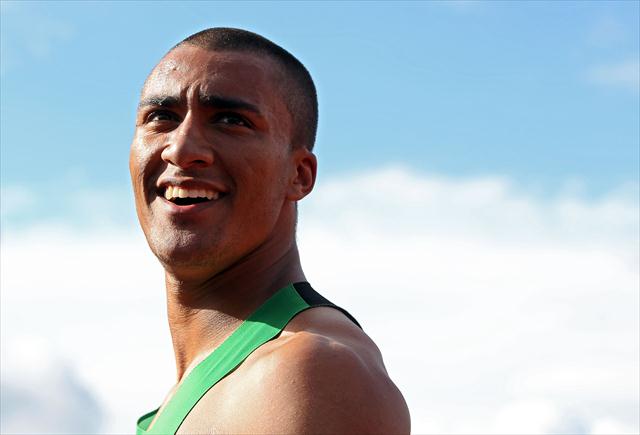 After his decathlon world record, Ashton Eaton could be a household name with a gold medal in London. 
(Getty Images)
After 21 combined days of competition, the major U.S. Olympic Trials are over, and Team USA's representatives in track and field, swimming, and gymnastics have all been chosen. So it's time to hand out some awards for those 21 days' biggest -- and usually best -- accomplishments:
BEST PERFORMANCE: With all due respect to Michael Phelps reasserting himself as the dominant force in American swimming, Allyson Felix putting together the best race of her life, or Gabby Douglas dramatically stealing away the gymnastics spotlight long-since reserved for Jordyn Wieber, only one U.S. athlete cemented himself as the favorite to become the world's greatest ... and smashed one of sport's most famous world records in the process. Ashton Eaton's romp through the decathlon field and world-record 9,039 points established him not only as the athlete to beat in London, but his event as one that should find a much-wider American audience as he chases gold next month.
BEST MOMENT: Surprisingly (or is it unsurprisingly?), it came only seconds after one of the worst: Nastia Liukin's frightening fall from the uneven bars in Sunday's second day of women's gymnastics competition, the moment at which the reigning Olympic all-around champion's dream of returning to the Games was well and truly finished. But Liukin regained her footing, made sure her jaw and neck still worked, went back on the bars, finished her routine ... and was greeted by a lengthy standing ovation. The applause came (and came and came) not just for Liukin's determination in getting back on the bars for the final time as an Olympic competitor, but for her entire landmark career. Her struggles reminded us of how staggeringly brief most elite women's gymnastics careers are; her ovation reminded us of how much impact they can have all the same.
BEST RACE: Michael Phelps vs. Ryan Lochte got the kind of pre-Trials billing that two swimmers with different specialties in a week's worth of events shouldn't have been able to live up to. And somehow they did, with all four of their head-to-head finals offering must-see levels of excitement and their back-and-forth 200-meter freestyle showdown -- won by Phelps by all of five-hundredths of a second -- going down as an instant classic. That Phelps is dropping the 200 freestyle from his Olympic program isn't a shame because he can't equal his outrageous 2008 accomplishments; it's a shame because that's one fewer time for the rest of us to be riveted by what's surely the greatest head-to-head rivalry in Olympic sports today.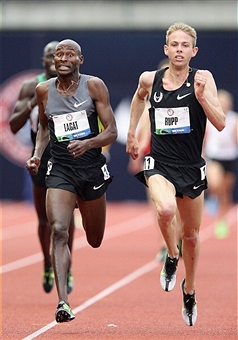 Bernard Lagat (left) and Galen Rupp's 5,000-meter duel was the best race of the week in Eugene. 
(Getty Images)
BEST RACE, TRACK VARIETY: It's true: the U.S. hasn't won a men's medal in a distance longer than 800 meters since 1968. But both Bernard Lagat and Galen Rupp have the potential to change that in London, and showed why in their breathtaking finish in the 5,000 meters. After lurking behind Rupp for much of the race, Lagat surged into the lead down the final 200 meters, only for Rupp to recover and cross the line first for his first-ever victory over Lagat. That the Oregon-bred and Oregon-trained Rupp broke the meet record set by Oregon legend Steve Prefontaine made the victory all the sweeter ... and made Rupp's odds of finally snapping the U.S. drought in London seem that little bit kinder.
BIGGEST DISAPPOINTMENT: Not Jeneba Tarmoh. Though we stand by our commentary Monday that Tarmoh may come to regret her decision to back out of Monday's proposed run-off between herself and Felix for the final 100-meter spot in London, it's only fair to note the number of sprinters and track analysts who came to Jarmoh's defense -- including NBC's Ato Boldon, who mounted an impassioned argument on her behalf on Twitter -- and acknowledge that in the vacuum left by USATF's lack of protocol, it was her choice. However, that doesn't alter our disappointment that what could have been the perfect, perfectly thrilling wrap to Trials was yoinked away at nearly the last minute--and more importantly, that what could have been a major boost in media momentum for American track going into the games was lost.
MOST OVERLOOKED: Dawn Harper won the gold medal in the 100 hurdles four years ago in Beijing. She won the same event at Trials in convincing fashion. Despite a lack of elite times so far this season, she goes to London on the shortlist of gold-medal contenders in the event. So why isn't she a well-known name even among knowledgeable U.S. Olympic fans? Because she happens to share an event with the media force that is Lolo Jones. As we've written before, Jones has nothing to apologize for when it comes to the hype surrounding her and didn't become U.S. track's most famous athlete by accident. But with another major triumph under her belt, Harper's star really shouldn't be quite so eclipsed by Jones's at this point.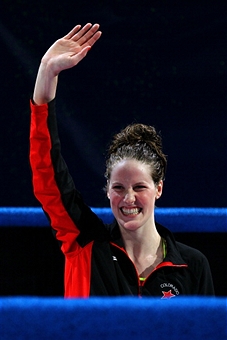 At 17, Missy Franklin is already the face of U.S. women's swimming.
(Getty Images)
MOST UNCANNILY SYMBOLIC MOMENT: Natalie Coughlin has been the face of American women's swimming for most of the past decade. Missy Franklin is poised to be exactly that for the next decade, starting in London. Early in the week at Omaha, they each swam the finals of the 100 backstroke, Coughlin's best event. Coughlin finished third. Franklin won, breaking Coughlin's American record in the process. She would go on to qualify in four individual events and three relays, setting her up to become the first woman ever to swim seven events in one Olympics. Whether you say the torch was passed or the guard was changed or Franklin took the baton, the transition from American female swimming's past to its present couldn't have been any cleaner.
MOST ENCOURAGING SIGN: With Wieber leading the way, whatever women's gymnastics team the U.S. put together at Trials was already going to be the favorite headed to London. But Douglas's breakout performance in San Jose -- one in which her repeated missteps were more than outweighed by her soaring acrobatics in the bars, floor, and vault -- showed that the U.S. could very well wind up with the world's top two all-around gymnasts for the second consecutive Games. That wasn't enough to eke past China (in China, remember) last time, but given the Chinese backslide and that Russia may not quite be there yet, the Wieber-Douglas tag team and a sizable advantage in vault should get the U.S. its first team gold since Kerri Strug tweaked her ankle.
BEST COMEBACK: Sam Mikulak deserves a nod here for recovering from two broken ankles to make the men's gymnastics team, but we'll go with the tag team of Justin Gatlin and Tyson Gay, who have returned from a four-year doping ban and a one-year layoff for hip surgery, respectively, to potentially break up a Jamaican sweep of the 100-meter dash. Gatlin ruined his feel-good moment by crassly suggesting Tarmoh and Felix break their dead heat by Jello-wrestling a day later, but there's no denying that after his head-to-head win over the white-hot Yohan Blake earlier this season, the U.S. may need his confidence and swagger in London.
BEST TWEETS: Ladies and gentleman, third-place 200 freestyle swimmer Ricky Berens:
Just finished season 2 of Game of Thrones. Feel like it went absolutely nowhere. Back to where season 1 ended. That how all the books go?

— Ricky Berens (@RickyBerens) July 2, 2012
WAIT WHAT!!!! RT @coach_bowman: @MichaelPhelps will be removing the individual 200 freestyle from his Olympic program.

— Ricky Berens (@RickyBerens) July 2, 2012
I don't believe this yet! RT @mikelgustafson: With Phelps out of the individual 200 FR... Ricky Berens, you're movin' on up!

— Ricky Berens (@RickyBerens) July 2, 2012
Words can't describe how I am feeling right now. If Twitter is right, I am swimming the 200 free at the Olympics!!!!! This is nuts!!!

— Ricky Berens (@RickyBerens) July 2, 2012
Dream come true! RT @SwimmingWorld: @RickyBerens USA Swimming announced it, and Gregg Troy just said it in a press conference.

— Ricky Berens (@RickyBerens) July 2, 2012
Three members of the Board of Directors executive leadership tendered their resignations on...

Emma Ann Miller, the 95th person to speak against Nassar in court, made the claims Monday

Kenworthy is set for his second Winter Olympics and his first after coming out as gay
Not everybody in South Korea is on board with the decision to unite with North Korea for the...

The Ralph Lauren jacket can be controlled by the athlete's smartphone, so that's something

Johannson, 53, had been tasked with assembling the United States' men's ice hockey team