Heat-Bulls Game 1: Miami outplayed or just rusty? Try both
Miami was rusty and outplayed by Chicago in Game 1. Can they respond with more energy in Game 2?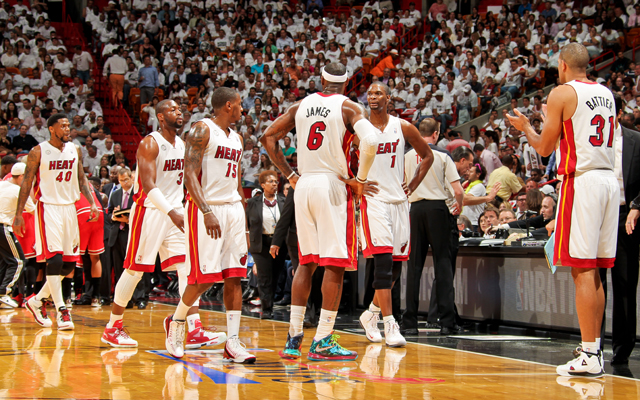 The Miami Heat won their fourth game vs. the Milwaukee Bucks to advance to the Conference Semifinals on April 28th, eight days prior to their Game 1 vs. Chicago. They had a full week off from professional basketball competitions, to sit around, practice, grow mustaches, the works. There's a reason LeBron James said earlier in the week he wanted the Bulls to wrap up the series sooner so they could start Round 2 on Saturday. 
And we saw every bit of it in Game 1. 
Miami shot 39.7 percent in Game 1, and 26 percent in the first quarter. The best offensive team in the league was held to a 94.5 offensive rating. 
This is tricky. 
If you attribute it to rust, at all, in any way, you risk downplaying or ignoring the brilliant, masterful, amazi-wonder-riffic defensive gameplan and execution Tom Thibodeau's Bulls played. You cannot take one iota of credit from Chicago. Even if the Heat were rusty, they could have won this game on talent alone. The Bulls outplayed Chicago in nearly every phase of the game, and deserve the win and recognition that they are very much in this series beyond just the 1-0 lead. That wasn't a fluke. 
But there is something to say for a team to have had that long off. Basketball is a rhythm game, and the Heat missed a lot of rhythm jumpers. They missed layups at the rim. Most misses were caused by some great defense from the Bulls' frontline. But some were just misses. The Heat were sluggish and out of sync, and you have to think that played a part. This isn't a bunch of spring chickens. 
But there are no excuses. Miami could have had rust, could have been fresh, whatever. Chicago went out and took that game and the series lead. Now we find out if a team that won 27 games in a row can shake off the rust enough to get control back in a series vs. a team without three of its best players. 
Miami will respond with more energy in Game 2, you'd have to assume, along with tactical adjustments. But Chicago will as well. And now you've shown Tom Thibodeau he has an edge, which is always dangerous. 
Or that rust is going to turn toxic in a hurry. 
Nassar continues to have to listen to victim impact statements as he awaits sentencing

The former USA Gymnastics doctor issued a six-page complaint during his sentencing hearing

Mancuso went out in style on her final run, rocking a Wonder Woman outfit and cape
Unsurprisingly, an investigation has been launched into why so many Russian athletes got s...

Rippon says 'Mike Pence doesn't stand for anything that I really believe in'

Couric will be joining Mike Tirico at Pyeongchang Olympic Stadium for the Feb. 9 Opening C...