Hofel-Riesch wins Super Combined again, bronze for Julia Mancuso
Germany's Maria Hofel-Riesch repeated as the gold-medal winner in the women's Super Combined on Monday. USA's Julia Mancuso earned the bronze.
Germany's Maria Hofel-Riesch overcame a one-second deficit to American Julia Mancuso to win her second straight gold in the Super Combined while Mancuso held on for the bronze.
Mancuso had a great first half of the Super Combined, leading after the downhill portion by 0.47 seconds, a large margin in skiing. She was 1.04 ahead of Riesch.
But in the second half of the combined competition, the slalom, Riesch blazed down the course and put the pressure on Mancuso. With the top time from the downhill, Mancuso went last so had a time to shoot for but she was unable to beat it.
Mancuso's stronger of the two pursuits in the Super Combined is the downhill. She hadn't competed in the slalom this year before Monday's final and it showed some as she had a few minor issues in her run. Still, thanks to her big lead from the downhill, it was good enough to finish with a total time of 2:35.15, 0.53 seconds behind Riesch to earn a medal.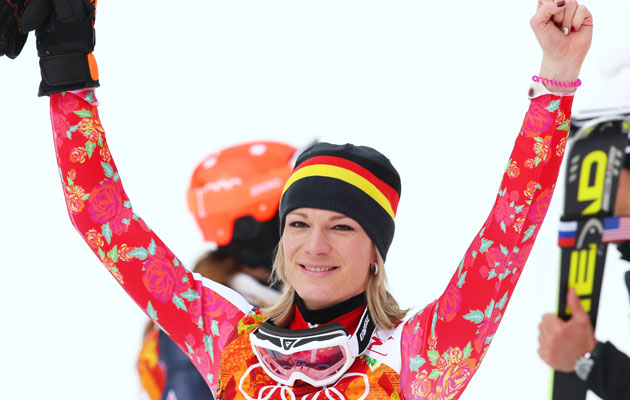 It was the second straight Olympic medal in the Super Combined for Mancuso. She earned the silver in Vancouver to Riesch's gold four years ago. For Mancuso, it adds to what has been a banner Olympic career.
This is @JuliaMancuso's 4th Olympic medal and extends her record for an American female Alpine skier! #BelieveInUS

— usskiteam (@usskiteam) February 10, 2014
Austria's Nicole Hosp won the silver medal, 0.40 seconds behind Riesch.
Jamaican legend goes down on the 4x100 relay final with an apparent leg injury

The Summer Games are coming to L.A. for the third time

Gil Roberts claims that the only crime that he committed was loving too much
Los Angeles preferred 2024, but may have to wait another four years to host Games again

TSA says it reached out to the gymnast and is looking into the incident

The record-setting Jamaican sprinter had one of his nine gold medals stripped