Jeff Carter joins Crosby, Kunitz in first look at Canada's line combos
Canada practiced for the first time in Sochi on Monday, giving us a look at their lines. On the top Jeff Carter landed the spot on the wing with Sidney Crosby and Chris Kunitz.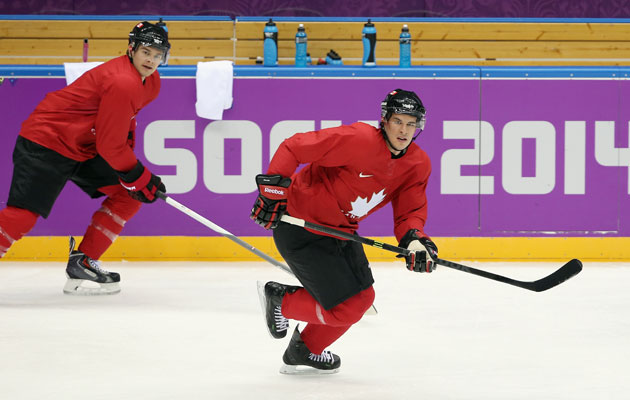 More NHL: Scores | Standings | League Leaders | Odds | Injuries | Power Rankings
The answer to the question many wanted to know about Team Canada, who will Sidney Crosby and Chris Kunitz's linemate be, apparently has been answered: Jeff Carter.
With the NHL players arriving in Sochi on Monday, Canada got together for their first practice in Russia, giving everybody a sneak peek at their line combinations. With the crazy depth the Canadians have it would be hard to go wrong but Carter might be a surprise on their wing.
Crosby being with Kunitz was a guarantee. The biggest reason that Kunitz is on the roster is to play with Crosby, a player he has had so much success with. The choies on their line were deep and eventually Carter received the nod. Some speculation had Carter as being an odd-man out on any of the lines but instead he draws an enviable spot. However he is a pure sniper and imagining his wrist shot being set up by Crosby is intimidating. Plus, he's a right-handed shooter and that should play well with Crosby and Kunitz.
Here are how the lines are looking for the Canadians after their practice. A reminder: Canada is pretty stacked.
Crosby between Kunitz-Carter, Toews between Sharp-Nash, Getzlaf between JT-Perry, that's three seemingly defined lines and 5 Fs for 4th.

— Bob McKenzie (@TSNBobMcKenzie) February 10, 2014
Remaining forwards are Marleau-Bergeron-St. Louis-Benn-Duchene.

— Bob McKenzie (@TSNBobMcKenzie) February 10, 2014
Defence pairs are exactly as were projected: Keith-Weber; Vlasic-Doughty; JBo-Petro; Hamhuis-Subban.

— Bob McKenzie (@TSNBobMcKenzie) February 10, 2014
Any time that you can have a third line that consists of Ryan Getzlaf, John Tavares and Corey Perry, you're probably an OK team.
Canada has a few days left of practice as they don't play their first game of the tournament until Thursday at noon ET against Norway.
If the South Korean standoff with Pyongyang continues, France has said they will stay home...

The news comes shortly after a deal was struck by Los Angeles and the IOC

Jamaican legend goes down on the 4x100 relay final with an apparent leg injury
The Summer Games are coming to L.A. for the third time

Gil Roberts claims that the only crime that he committed was loving too much

Los Angeles preferred 2024, but may have to wait another four years to host Games again