Jeff Carter scores hat trick as 'extra' forward, Canada rolls Austria
Jeff Carter had a natural hat trick despite being demoted to the 13th forward to help Canada to a dominating 6-0 win over Austria.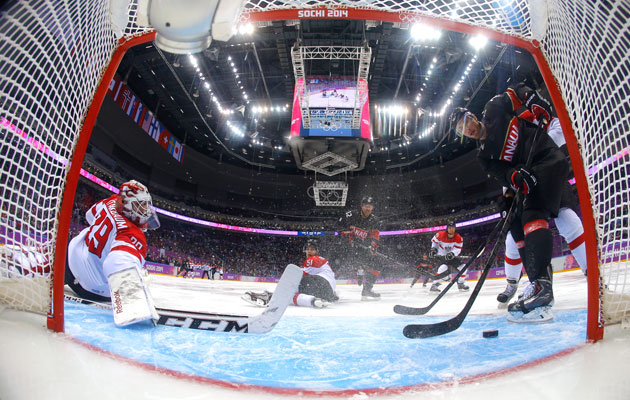 More NHL: Scores | Standings | League Leaders | Odds | Injuries | Power Rankings
As soon as Canada announced its roster for the Olympics, conversation turned to who didn't make the team instead of who did faster than you could say Pietrangelo. But before you can think about guys who should be on the team you have to first answer the question of who shouldn't.
In the case of 2014 Team Canada, perhaps the most popular choice to fill in that blank was Jeff Carter (and Chris Kunitz too). The Kings forward plays for a team that is inept at scoring and as the Games drew nearer and the Kings kept losing, criticism of his selection only increased.
That conversation can end now.
Carter recorded a natural hat trick in the second period on Friday to lead Canada to a demolition of an inferior Austrian squad 6-0 to move set up a showdown with Finland on Sunday with the winner taking Group C.
When the tournament began, Carter was playing on a wing with Sidney Crosby and Kunitz. The line left a lot to be desired. Like most of the lines for Canada -- Bergeron, Benn and Tavares excluded -- they didn't seem to be completely clicking as Canada scored only three goals against Norway, two from defensemen. The result was to shake up the lines.
Because Carter didn't look great vs. Norway, he was the one that looked to be on his way to being the dreaded 13th forward (remember, in Olympics you dress 20 skaters, not 18). He didn't have a line until he started to see some time with Jonathan Toews and Patrick Marleau. That's when it clicked.
Carter went to the dirty areas and he was rewarded. Marleau had the primary assist on all three of Carter's goals and suddenly Canada looked like it had a strong partnership in the works. He still played fewer minutes than any other player on Friday -- and he still had a hat trick! -- but if nothing else he earned his spot in the lineup again for Sunday against Finland.
It wasn't just the goals that struck out with Carter either. He made an excellent play early in the game when he was able to catch Michael Grabner of all skaters on the backcheck and use his body to dislodge Grabner from the puck and turn a promising Austrian opportunity into a dud. Those types of plays will win you favor with a coach like Mike Babcock.
Based on his first game, it was a redemption of sorts for Carter. Really, it was a redemption of sorts for Canada as a whole. As noted, yesterday they didn't look great (but there was no reason to panic at all either), they didn't look like the Canadian team we've come to expect. They did on Friday. It helped playing Austria but Canada did what they should do against such a club, doubling Austria in shots 46-23.
The Canadians are still trying to find the best line combinations but while that juggling takes place -- Tavares was playing with Crosby at one point while Kunitz was shifted away before reuniting -- the defensemen were taking care of business.
Drew Doughty opened the scoring with his second goal in as many days and soon Shea Weber pulled off the same feat with an absolute rifle. Canada's defensive corps brings a lot to the table and offense is certainly one of those aspects. Four of Canada's eight goals so far have been scored from the blue line.
Canada's sixth goal of the game came from Ryan Getzlaf on an absolutely sick individual maneuver while on the penalty kill. Interestingly enough, he also could have passed to Carter for what likely would have been a tap-in.
Meanwhile in net, Roberto Luongo was perfect, stopping all 23 shots and making a really good case to be the goalie against Finland. Austria did get some really good chances in the early going to really test Luongo but he answered the bell -- and got help from the post, his best friend. Babcock has a tough decision between he and Carey Price but in this case that's a good thing.
With a day off before facing Finland, Canada has a couple more things to figure out as far as the lineup goes but it's starting to shape up how they expected; for those decisions to be awfully tough to make, Carter included.
The South African sprinter and Paralympic champion is serving time for the murder of his g...

More than 400 people reportedly held emergency defense drills in advance of the Winter Gam...

The Olympic gold medalist says she also won't accept an invite the White House
The children of Japan will decide on the 2020 Olympics mascots but all of Twitter seems to...

Nassar, accused of assaulting U.S. gymnasts, is still awaiting sentencing for molestation

Nikki Haley, U.S. ambassador to the United Nations, says concerns with North Korea remain a...