Judo bronze medalist, MMA star Rousey isn't too thrilled with Michael Phelps' attitude
Ronda Rousey has issues with the way Michael Phelps has treated his fellow U.S. Olympians.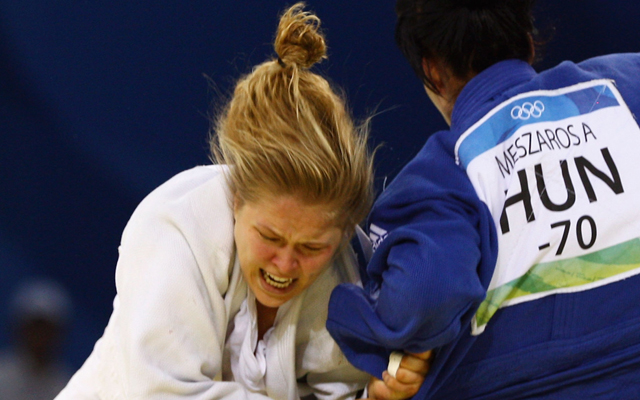 Ronda Rousey is not impressed with Michael Phelps.
(Getty Images)
Michael Phelps is big-timing his fellow members of Team USA, according to one Olympian. 
Ronda Rousey who won bronze in 2008 in Judo, the first woman to win a medal for the U.S. in the event's history, recently commented that at a party for U.S. Olympians, everyone was hanging out together, even the USA Basketball contingent. It was all snuggles and fuzzies, apparently, except for one dude. 


Via Yahoo Sports:
Rousey said while at a party for all American Olympians, the athletes happily mingled together. NBA players hung with the rest of the group, but Phelps had his own area that was just for his group.

"These NBA players are a bigger deal than this guy, and theyre hanging out with us. Were teammates. Were not a bunch of groupies. Come hang out with us," Rousey said.
via Fourth-Place Medal | Sports Blog - Yahoo! Sports.
See, and it was such a nice story, too, all these athletes competing in an amateur competition. Except for the whole, you know, wanting to get paid thing. Phelps obviously is the biggest name outside of USA Basketball returning for the games this time around, the most recognizable figure, the Wheaties Subway guy. Fourteen golds will do that. 
But I mean, if we're looking at people you don't want to make angry? I'm going to nominate Rousey. I mean...

Yeesh.
Unsurprisingly, an investigation has been launched into why so many Russian athletes got s...

The former USA Gymnastics doctor issued a six-page complaint during his sentencing hearing

Rippon says 'Mike Pence doesn't stand for anything that I really believe in'
Couric will be joining Mike Tirico at Pyeongchang Olympic Stadium for the Feb. 9 Opening C...

White expects to win in South Korea and for the president to tweet about it

After long-anticipated talks, the two states have planned for a united Winter Games