Julia Mancuso builds large lead after downhill portion of Super Combined
Julia Mancuso turned in the best run on the downhill portion of the women's Super Combined final, nearly a half-second faster ahead of the field going into the slalom.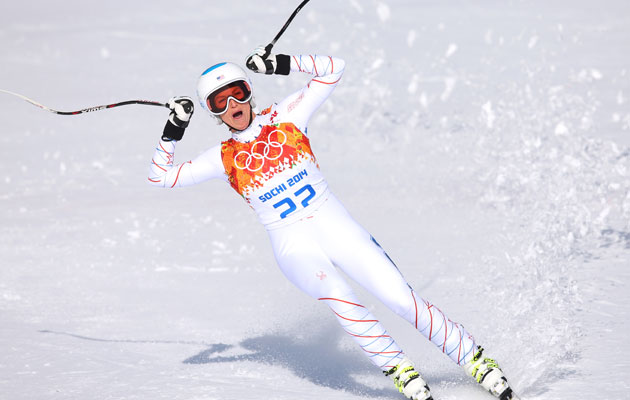 After the downhill portion of the women's Super Combined, American Julia Mancuso holds a commanding lead in the two-part discipline.
The women's skiing competition got under way early Monday morning in Sochi and it was an early run from Mancuso that put the pressure on the rest of the field. She blazed the downhill course in 1:42.68, .47 seconds faster than Lara Gut of Switzerland. That's a sizeable lead in a sport where competitions are often decided by hundredths of a second.
The difference from second to third was nearly as big. Tina Maze of Slovenia finished .86 behind Mancuso. Only three competitors finished the downhill within one second of Mancuso's time. Defending Olympic champ and one of the favorites in this competition, Germany's Maria Hoefl-Riesch, is fifth, 1.04 seconds back.
However Mancuso's work is only halfway done. She carries a nice lead into the slalom but the downhill is the stronger of the two pursuits for Mancuso, who hasn't raced the slalom yet this year. Regardless, with the dominant downhill she has put herself in great position for a medal and if nothing else, it should really boost her confidence.
The slalom will take place later on Monday at 6 a.m. ET with the medals on the line. Regardless of what happens, Mancuso already feels good about her Monday.
My grandpa is smiling down at me from heaven and saying I can be proud no matter what happens! This one's for you Grandpa Denny:) #discotime

— Julia Mancuso (@JuliaMancuso) February 10, 2014
Mancuso took silver in the combined competition in Vancouver, also winning silver in the downhill. So not only does Monday's run bode well for her chances of turning that 2010 silver into gold in the combined -- which would be her second career Olympic gold -- it also would seem to make her a strong contender to do the same in the downhill competition, which will take place in a couple of days.
Mancuso is the only American in the hunt after the downhill. Leanne Smith sits in 20th place, 2.38 back of Mancuso's time while Laurenne Ross and Stacey Cook each did not finish the course.
Nassar continues to have to listen to victim impact statements as he awaits sentencing

The former USA Gymnastics doctor issued a six-page complaint during his sentencing hearing

Mancuso went out in style on her final run, rocking a Wonder Woman outfit and cape
Unsurprisingly, an investigation has been launched into why so many Russian athletes got s...

Rippon says 'Mike Pence doesn't stand for anything that I really believe in'

Couric will be joining Mike Tirico at Pyeongchang Olympic Stadium for the Feb. 9 Opening C...