Kayla Harrison, sexual abuse survivor, looks to make Olympic judo history
Judo Olympian Kayla Harrison represents her country in judo this week, overcoming a history of sexual abuse as a child.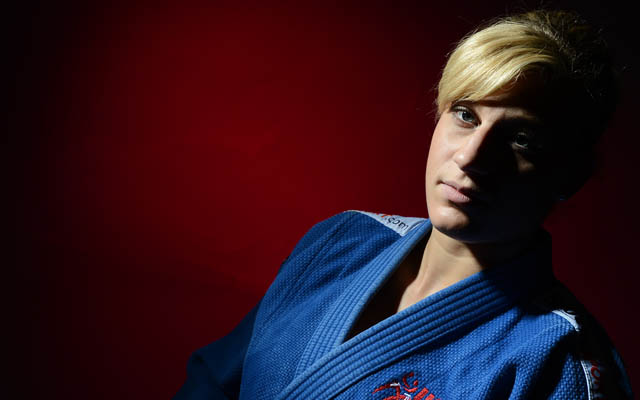 Kayla Harrison tries to become the first U.S. women's gold medal winner in judo this week.
(Getty Images)
Kayla Harrison's a hero. Tough as nails, brave as anything, and should be an inspiration to young women everywhere as well as a standard bearer for Olympic excellence. 
She's also a sexual abuse survivor. 
Harrison has committed her life to judo, and on August 2nd, she tries to become the first American to win a gold medal in the event's history at the Games.
She was also victimized over several years, sexually, by her judo coach. When she was 13. 
These two elements make up the tapestry of the extraordinary young woman's life, and it makes it such a difficult story to relate. To ignore the nightmare that she endured as a young girl victimized by her judo coach is to fail to acknowledge what must be faced in the light, yet another example in a year that seems focused on showing the worst of the demons among sports leadership. But to make her story only about a sexual abuse victirm having made it to London is to do a disservice to her dedication, her talent, her life. 
And so we're left to tell two stories at once, and hope that you'll understand the crucial importance in both. 
Harrison does. From Cincinnati Magazine: 
The unlucky part of her life came bubbling back up last year when the Jerry Sandusky/Penn State scandal broke. She was furious when she heard the allegations that the assistant coach had molested boys; furious when the firing of Joe Paterno evoked more concern than the stories of abuse.

"There was very little sympathy for the victims," she recalls. "I was enraged by that."I remember what it was like to be 16 and to have people talking about me on a judo board—people who knew nothing about me. I wanted kids—boys, girls, victims—to know that while this was the most awful time in their lives, it will pass. And one day you'll realize that it doesn't define you anymore."

Ironically, because she is talking openly about her past, being molested is a defining moment in stories like this one. But in London, scoring an ippon—a big, decisive, match-ending throw—would, no doubt, change the conversation.

"I've only had two goals in my life," she says. "One was to win the World Championship, the other to be an Olympic champion." In 2010 she won the world title and found some inner peace. "The past four years," she says, "have been all about one day: August 2."
via Feature Articles I Team Kayla I Cincinnati Magazine.
It should be noted that just coming forward, as Harrison did to her mother when she was 13, about the abuse is something that many children never find the courage to do. In such a confusing time, to be able to summon the strength to share that, especially about someone you have such a level of trust and respect or fear for, is incredible. A 2008 study estimated that 9 out of 10 cases go unreported. Try and contemplate how many people that results in having undergone the worst our world affords. That Harrison was able to continue her training speaks strongly to her spirit and will. 
From FoxSports.com:
She talked about going traveling around the world with him, to judo competitions in exotic places like Estonia, Venezuela and Russia. She talked about when the abuse started — around age 11, she guesses, as she was making a national name for herself in judo — and she talked about how awful it was after Doyle was arrested, and the news was on CNN, and judo chat forums online debated what Kayla's role was.

And she talked about those conflicting emotions when she watched her old coach get sentenced to 10 years in prison. After all, this was the man that Kayla for years had assumed she'd marry after she turned 18.

"It was bittersweet," she says now. "It was definitely closure. I needed to get up in front of the judge and him and say my piece. I explained to the judge that what once was my passion (judo) is now my prison. It was the toughest day of my life. It was heart-wrenching. I didn't know what to feel, and that made it worse. Everyone was so happy, so excited. Everybody had been so angry for so long.

"To everyone else, that was the end. They could move on with their lives. But it wasn't that easy for me."
via Judo Kayla Harrison overcomes sexual abuse and aims for Olympic Glory at London 2012.
Harrison's not there because of her history of sexual abuse, but in spite of it. She has crossed through unimaginable horrors at such a young age and stands in front of the world, intent on being reaching for greatness. 
And when she steps onto the mat on Thurday, she stands as a judo Olympian, as an American, as a woman, and as a survivor. Her story isn't one of these things, but all of them. No one is just a victim. But Kayla Harrison is so much more. 
The two-time gold medalist's road to making his fourth Olympics just got a little tougher

Here's how to watch all of the halfpipe and slopestyle action as Olympic qualifying resume...

The South African sprinter and Paralympic champion is serving time for the murder of his g...
The Olympic skier says she's received hurtful comments since her remarks about competing for...

More than 400 people reportedly held emergency defense drills in advance of the Winter Gam...

The Olympic gold medalist says she also won't accept an invite the White House