Kayla Harrison wins gold in Judo in emotional victory
Twenty-two-year-old Kaya Harrison wins gold in judo after overcoming a history of sexual abuse at the hands of her former coach.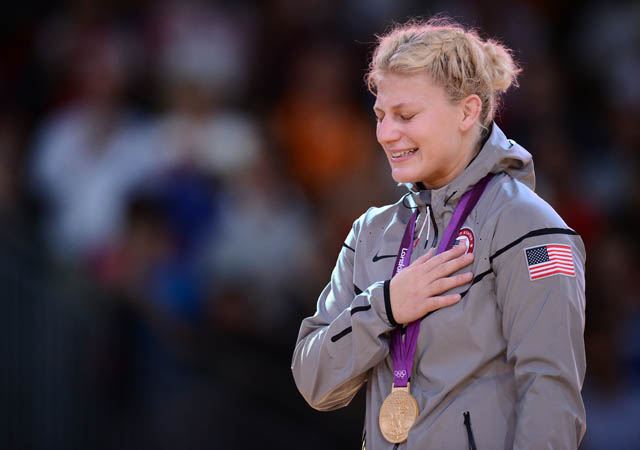 Kayla Harrison, the first U.S. gold medal winner in judo.
(Getty Images)
A story of heartache and tragedy becomes a story of perseverence and triumph. 
At 22 years of age, Kayla Harrison has won the first gold medal for judo in Olympic history for the United States.
Harrison, whose story of sexual abuse by her former coach as a young teenager has been well documented in the media, received the honor to a raucous round of cheers, even from the heavily pro-Great Britain crowd in London, as Harrison toppled Gemma Gibbons 2-0 to win gold.
Harrison's strength and aggressiveness, which had led to her coaches moving her up in weight class, helped her in dominating the match with her hips and legs, eventually battering Gimmons to the mat twice then holding off for the win with her upper-body control.
After the match, she hugged her coach who told her "I'm so proud of you" on NBC's broadcast, then leaped into the stands into the ams of her fiancé.
After accepting the gold, Harrison told reporters, via the AP:  "It's not every four years. It's every day," Harrison said. "I'm just so honored to be America's first gold medalist, and so happy to realize my dream. I'm America's first gold medalist in judo - and always will be."
It was an emotional moment for anyone aware of what the young woman went through, an extraordinary Olympic tale of how sport can provide personal redemption. Harrison has been quoted as saying that judo "saved [her] life."
And in taking a huge step forward in the sport for the United States, she has paid that debt back.
The Olympic gold medalist says she also won't accept an invite the White House

The children of Japan will decide on the 2020 Olympics mascots but all of Twitter seems to...

Nassar, accused of assaulting U.S. gymnasts, is still awaiting sentencing for molestation
Nikki Haley, U.S. ambassador to the United Nations, says concerns with North Korea remain a...

Maroney detailed the extent of the sexual abuse she endured her in a victim-impact stateme...

The International Olympic Committee ruled Tuesday that Russia would be barred from the 2018...